The SC Progressive Network's two-year campaign to recruit Greenville County college students to file suit against the county election board ended today with a clear victory.
Circuit Judge Robin Stilwell issued an order at 4pm requiring the Greenville County Board of Voter Registration to "immediately and temporarily cease and desist from requiring the additional questionnaire from on-campus residents of Greenville County colleges."
Judge Stilwell concluded that if the requested relief was denied "the Plaintiffs (Ben) Longnecker and (Katherine) West will not be afforded the privilege of exercising their constitutional rights in the upcoming election. That opportunity will be forever lost."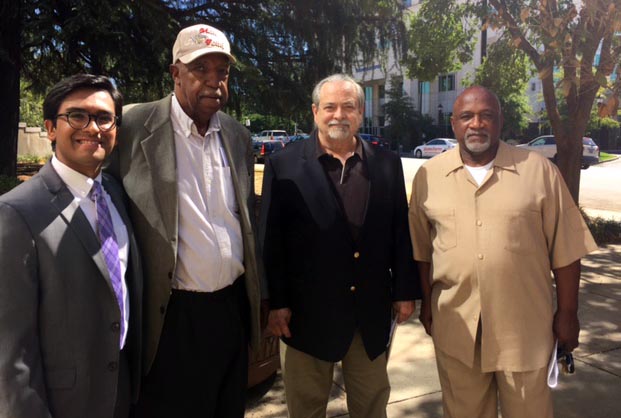 Furman student and plaintiff Sulaiman Ahmad, Rev. Carol Hill, Network Director Brett Bursey, and Greenville NAACP President Rev. J.M. Flemming at the Greenville Court House before the Oct. 6 hearing.
The lawsuit also prompted the State Election Commission (SEC) to issue its first "cease and desist" order telling a county board what to do since South Carolina's voting laws were codified in the 1895 constitution that disenfranchised blacks. "We anticipate that the SEC will force Greenville County to permanently end this practice," said Network Director Brett Bursey, "and that it will use its new authority to force counties to follow standard procedures that will make the voting process in South Carolina less confusing and more equitable."