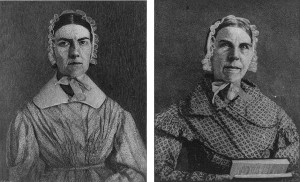 South Carolina sisters Sarah and Angelina Grimke, Charleston abolitionists and early feminists
•  •  •
The SC Progressive Network's spring session of the Modjeska School begins Monday, March 21, and runs through June 20. We invite you, no matter where you are, to take advantage of the online study guide.
Brett Bursey, Meeghan Kane, and Graham Duncan have compiled an excellent collection of readings and film documentaries that is free and completely accessible online. Additional study material will be added to the site over the coming months.
This session of the Modjeska School is an organizer/activist training course that studies South Carolina history for students to better understand today's social and political landscape. This is not a traditional course on SC history, but rather a people's history of resistance. To be effective organizers, we must understand our past. Classes One through Six will highlight our state's rich history of both repression and resistance. Classes Seven and Eight will analyze our shared past to help shape current theories, strategies and practices for making progressive change in South Carolina.
Class One Study Guide is HERE.
Spring session class schedule is HERE.
Follow the Modjeska School on Facebook.
Questions? Call 803-808-3384.