Amaze and amuse your friends with these fun facts about the Iodine State*.
* ~ Before becoming known as the Palmetto State, South Carolina was known as the Iodine State. It even said so on the license plates.
~ The first boll weevil found in South Carolina is on display at the Pendleton District Agricultural Museum.
~ Fountain Inn is proud of the town's most famous native son. Clayton "Peg Leg" Bates lost his leg in a cotton gin accident at the age of 12. He overcame his tragedy to become a famous dancer. His signature step was the "Imitation American Jet Plane," in which he would jump five feet in the air and land on his peg leg, with his good leg sticking straight out behind him. During his career, Bates performed more than 20 times on the Ed Sullivan show – more than any other artist.
~ John Don Cooper is the reigning kudzu-eating champ in Blythewood, where the Kudzu Festival each September pays tribute to the vine. In 1999, Cooper ate 10 pounds, 6 ounces of kudzu.
~ The only major league baseball player to wear the name of his hometown on his uniform was pitcher Bill Voiselle. He wore number 96.
~ The salamander is the official state amphibian. [Insert your own joke here.]
~ Alan Greenspan's successor as chairman of the Federal Reserve Board, Ben Bernanke, was raised in Dillon. Always studious, Bernanke won the state spelling bee in sixth grade, but lost in the national competition when he misspelled "edelweiss."
~ Florena Budwin is believed to be the first woman buried in a national cemetery, Florence National Cemetery in Florence, in 1865. She disguised herself as a man to join the Union Army with her husband.
~ The nation's first "green," cemetery is Ramsey Creek Preserve in Westminster, where embalming fluids and vaults are forbidden. Burials are in biodegradable caskets and graves are marked in natural ways with a tree, shrub or stone.
~ A husband-hollering contest is one of the popular events at the Golden Leaf Festival held in Mullins each September. Winners get a $100 grand prize.
~ Myrtle Beach has more than 120 golf courses—the most per capita of any metropolitan area in the country. [It's unclear whether those statistics include goofy golf courses.]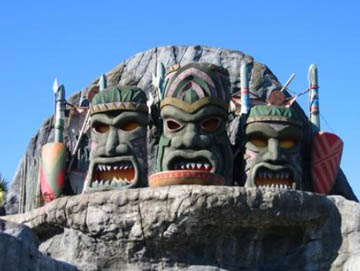 ~ In 1958, a B-47 Air Force pilot accidentally dropped a nuclear bomb on the William Gregg farm in Mars Bluff near Florence. Oops. Although the bomb's nuclear rod hadn't been inserted, the blast destroyed the home and left a 30-foot-deep crater. The Greggs family escaped with minor injuries.
~ In 1887, Mary Beatty of Conway guarded the town's majestic oak trees with a shotgun when railroad officials threatened to cut them down. The tracks were rerouted, and Conway continues to protect its 220 historic oaks today.
~ Darlington Raceway, which opened in 1950, originally was designed as an oval track. An egg-shaped design was eventually created to accommodate a landowner who did not want his nearby minnow pond disturbed.