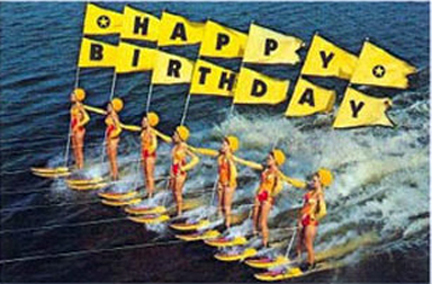 Hard to believe, but this blog is a year old today. Time do fly. I've learned a lot since that first, hopeful post, not the least of which is that I may not be a Luddite after all. Who knew? I've found this to be a truly swell tool for grassroots organizing, and I'm committed to making this space as useful and relevant as I can for as long as folks keep stopping by.
And it promises to get better. Next month I'll be going to St. Paul, MN, for a three-day workshop put together by the Progressive Technology Project. (Me, Little Luddie, going to a techie conference!) So watch out, boys and girls. Once my good intentions are supported by real skills, there's no telling. I especially want to learn how to produce and share video clips of our members (meaning the SC Progressive Network – this blog's daddy) who are doing amazing things in the trenches, largely unnoticed by the mainstream press.
Thanks to New Morning Foundation, the Network got a camcorder this year and, as communications czarina, I get to play with it. It is the best toy ever but, novice that I am, the videos posted here and on the Network's new YouTube channel, so far have been, well, just sad. Sorry. But I have every reason to believe that the good people at the Technology Project can help.
The plan is to feature profiles of our Network members, clips from our meetings and trainings, video of rallies, protests, vigils, legislative hearings and whatever else we hope might interest the uppity class in South Carolina. Note to Network member groups: if you want us to document something you're doing, or if you want to borrow the camera to shoot your own footage, e-mail me at becci@scpronet.com. Also, if you are a writer-sort/thinker interested in a soap box upon which to rant – politely – let me know. We need more local voices here, more original content about what's going on in the Palmetto State – and what ought to be.
Finally, thanks to Steve Hait for all the years of tech support at POINT and the SC Progressive Network. We owe you big.
Becci Robbins