By Becci Robbins
Today The State newspaper wrapped up DHEC Under Fire, an "exclusive" series exposing the failure of the state agency charged with protecting South Carolina's environment. It was oddly familiar. In 1999, the alternative newspaper POINT ran a similar package. I remember it well; I was managing editor and wrote most of the stories. You can read them here.
This was the introduction we ran:
This issue is dedicated to South Carolina's environment. Seems that while we weren't looking, this state became the country's garbage dump. We hope this issue of POINT gives you something to think about and, just maybe, something to fight for.

By way of full disclosure, readers should know that the publisher and editor of POINT have for the past year been working with grassroots groups from across the state on an initiative to restructure DHEC, the state's environmental agency.

Some will argue that our connection to the project renders us incapable of covering this story without bias. Perhaps.

But we believe our experience lends us a valuable perspective that we could not have as a member of the "straight" media. For many months, we have been meeting with lawyers, legislators, community leaders and environmental activists, some of whom go way back with DHEC. We have heard them talk with the freedom they would not if they were "on record." While we have not used any quotes from those meetings or discussed what went on in them, the discussions deepened our understanding of how DHEC works — and how it doesn't.

Finally, we invite anyone at DHEC, including those who declined to be interviewed, to respond to our coverage in this issue. We will gladly publish any written responses in the next POINT.
While it's good to see The State finally give DHEC the sort of scrutiny it deserves, it's too bad it took them so long to do it. Frankly, it's no surprise. The State, ironically, has a long history of doing what it now accuses DHEC of doing: coddling industry and putting the interests of big business above the public interest.
The paper has been unable, or unwilling, to connect the dots that draw the clear picture of systemic problems that allowed DHEC to operate so irresponsibly and with such devastating consequences. There is no excuse. We sent the newspaper the same press releases we sent the rest of the media informing them about our grassroots campaign and legislation designed to reform the environmental agency. They ignored us. No telling how much pollution went unchecked as a result.
The State's reporters said they interviewed 200 people to write their recent DHEC series. Not one of them was from the SC Progressive Network, the organization that initiated the move to reform the agency and called the first meeting of legislators and activists to explore the issue. That's shoddy reporting, at best. At worst, it reveals a pettiness unbecoming of the state's main newspaper.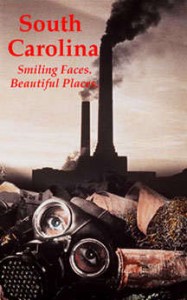 POINT cover, Winter 1999