What's wrong with our public transportation? Richland County's bus and DART (Dial-A-Ride-Transit for the disabled) service has been reduced 40% in the past two years. Waits on some routes are up to an hour, and other routes have been cut completely. Buses stop running at 6:30pm, and there is no Sunday or holiday service.
There is no long-term source of funding for buses or DART, and the system will run out of funds June 30, 2013. The system is so bad that people don't want to use it. Sadly, some people have no choice.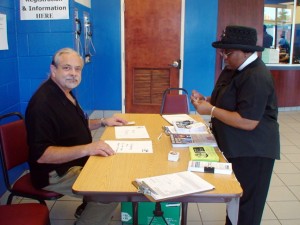 Progressive Network Director Brett Bursey and Bishop Shirley Raiford work Columbia's downtown bus station educating riders about the penny sales tax.
What can fix our transit problems? On Nov. 6, Richland County will vote on increasing the sales tax by one penny to fund public transit, road improvements and pedestrian pathways. The tax, which will last for 22 years, will raise over $300 million for public transit.
The money will:
allow fixed routes to be restored and expanded.
reduce wait times to 15-30 minutes
extend hours of service
restore Sunday service
expand DART service
fund the building of new transit station and shelters
bring more riders and reduce traffic congestion through Park-and-Ride services
Vote YES TWICE on the ballot for the penny sales tax on Nov. 6. The penny sales tax will appear on pages 5 and 6 on your voting machine as Local Question #1 and Local Question #2. A "YES" vote on # 1 will allow Richland County to collect a penny sales tax for transportation for the next 22 years. Download sample ballot here.
42% of the money is projected to come from people who don't live in Richland County. Each project gets a set percentage of the money raised that cannot be transferred between projects. Buses will get 29%, that is estimated to yield $301 million.
To volunteer to help Save the Buses, contact the Network at 803-808-3384 or network@scpronet.com. Volunteers are meeting every Wednesday at 2pm at the Network office, 2025 Marion St., to make assignments and hand out educational material. Download a flyer, and post at your business, school or church.