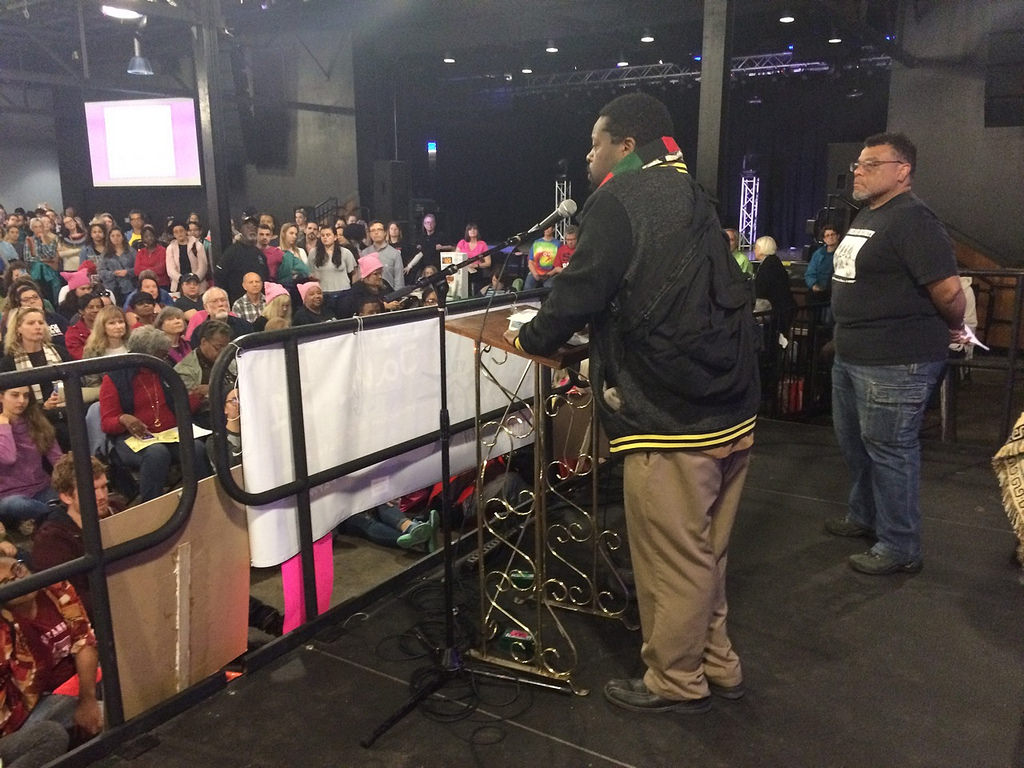 The Jan. 21 Rally and Strategy Summit mobilized thousands across South Carolina. As we said, it was not just a rally but a call to action. On Sunday, we'll meet in Columbia to plan next steps. Please join us.
SC Progressive Network Planning Meeting
Sunday, Feb. 5, 3-5pm
SC Education Association, 421 Zimalcrest Dr., Columbia
Dr. Martin Luther King, Jr., preached during the war in Vietnam that "there comes a time when silence is betrayal." We are again at that time in America. The SC Progressive Network has been working for 20 years – and our mentors for decades more – to be ready for this time. We have to acknowledge that we are not ready. We're not surprised by what has happened, we just didn't see it coming so soon, so fast and so brutally. We've got the skeleton, but it needs the muscle and flesh of kindred spirits to bring our resistance to full power.
We need your help to turn this crisis into an opportunity, an opportunity to lift ourselves, our state and nation to higher expectations of what life, and government, should be like in the world's richest country that calls itself a democracy.
We're meeting in Columbia on Sunday to take stock and plan next steps. We'll begin with a local imperative that has national resonance and an immediate action plan. The Grass Roots Alliance for Immigrant Rights is an organization that the Network has been fostering for several years, and is the only immigrant-led organization attempting statewide organizing. They represent SC family and friends threatened with deportation, and provide an example of how to leverage local organizing on national issues.
We will consider direct action plans to defend them that also serve to grow our united front movement. Network members and allies are encourage to attend.
Democracy Under Seige

Brett Bursey, SC Progressive Network Executive Director
When America looks in the mirror, staring back is the visage of Donald Trump, revealing the unadorned rotten core of the "thing-oriented society" that Dr. King warned us about. We failed to embraced the "radical revolution of values" he said were needed to conquer the "giant triplets of racism, extreme materialism and militarism." Trump is a logical conclusion to our nation's failure of moral leadership.
Last November, Americans voted against unpopular political parties with corporate and transnational allegiances. Trump won because white working people want their country back; but they bought the lies about who took it. The Democratic Party offered a kinder, gentler version of the free market: but it didn't satisfy enough voters to turn the socialist and alt-right rising tides.
In his farewell address, George Washington warned that political parties "are likely in the course of time and things, to become potent engines, by which cunning, ambitious, and unprincipled men will be enabled to subvert the power of the people and to usurp for themselves the reins of government, destroying afterwards the very engines which have lifted them to unjust dominion."
George was right. Unjust dominion is where our political parties have led us, where money is free speech, corporations are people, and democracy has been sold to the highest bidder. The result is: from health care, to education, economic mobility, to infrastructure, and voter participation, the United States trails the rest of the modern world.
At our founding 20 years ago, the SC Progressive Network determined that to win elections, a movement needed to grow its own party that was popular. We are in a "pre-party" phase, because we do not yet have the capacity to grow, or rehabilitate, a  political party with the clout to win and hold candidates accountable on a state wide basis.  Jamie Harrison, Democratic Party chair said, during debates over their candidate's lack of support for "Obamacare", that "the SC Progressive Network is doing what the Democratic Party needs to do to win elections." We've got the 'inside-outside" strategy and the tools, but we don't have the organizational capacity to work them. That's where you come in.
The new administration's dangerous actions have provoked well-deserved outrage that needs to be sustained and spread. The Network will facilitate resistance with logistical support, legal counsel and networking. We will also continue the work to develop and strengthen the new tools and pathways necessary to fix our broken democracy. We must have the discipline to do more than simply react, or resort to the placing our hopes on the old ways that have failed. This fight has been a long time coming, and requires a long-term strategy.
The SC Progressive Network's Education Fund, our nonpartisan policy institute, will continue to develop sound public policies. We work with the SC Progressive Legislative Caucus and the ACLU-SC to coordinate our strategy to educate, agitate, legislate and litigate. Our statewide individual membership will continue to be the troops on the ground to educate, agitate and organize their communities to strengthen our movement. We need more people to JOIN so we can hire our third staff person to keep up with the opportunities. We are not grant driven and the majority of our funding comes from local dues and donations.
Our political action committee will continue to strategically identify the few races where progressive engagement can make a difference.  The three candidates we chose to support won the last three legislative races we worked. Last November, we targeted the two Senate races, out of 46, that were contested. Our candidates, one Republican (who beat Lee Bright), and one Democrat who is a long time SCPN member, won. We are developing the necessary power to punish, or reward our political enemies or allies.
We will continue to offer the Modjeska Simkins School for Human Rights to train new organizers and send them into communities across the state. We will complete the purchase of the building next door to the Modjeska Simkins House in downtown Columbia to have dedicated space for the school, cultural activities and to strengthen our sense of community.
We will continue to provide a well-considered, state-based strategy to promote our shared social values. Our most important assets are our shared history with South Carolinians who have fought this same battle for generations, trust built on years of experience, an expanding core of people with a shared vision, and an emerging leadership that is prepared to carry the organization to new levels.
We are made hopeful by the public demonstrations taking place around the country and in South Carolina by people who are standing united for the very values upon which the nation was founded and we continue to strive for. We need to harness that energy in a way that is smart, fearless, and sustainable.
•  •  •
"We must rapidly begin the shift from a 'thing-oriented' society to a 'person-oriented' society. When machines and computers, profit motives and property rights are considered more important than people, the giant triplets of racism, materialism, and militarism are incapable of being conquered"
Martin Luther King, Jr., April 4, 1967
Excerpt from "Beyond Vietnam"