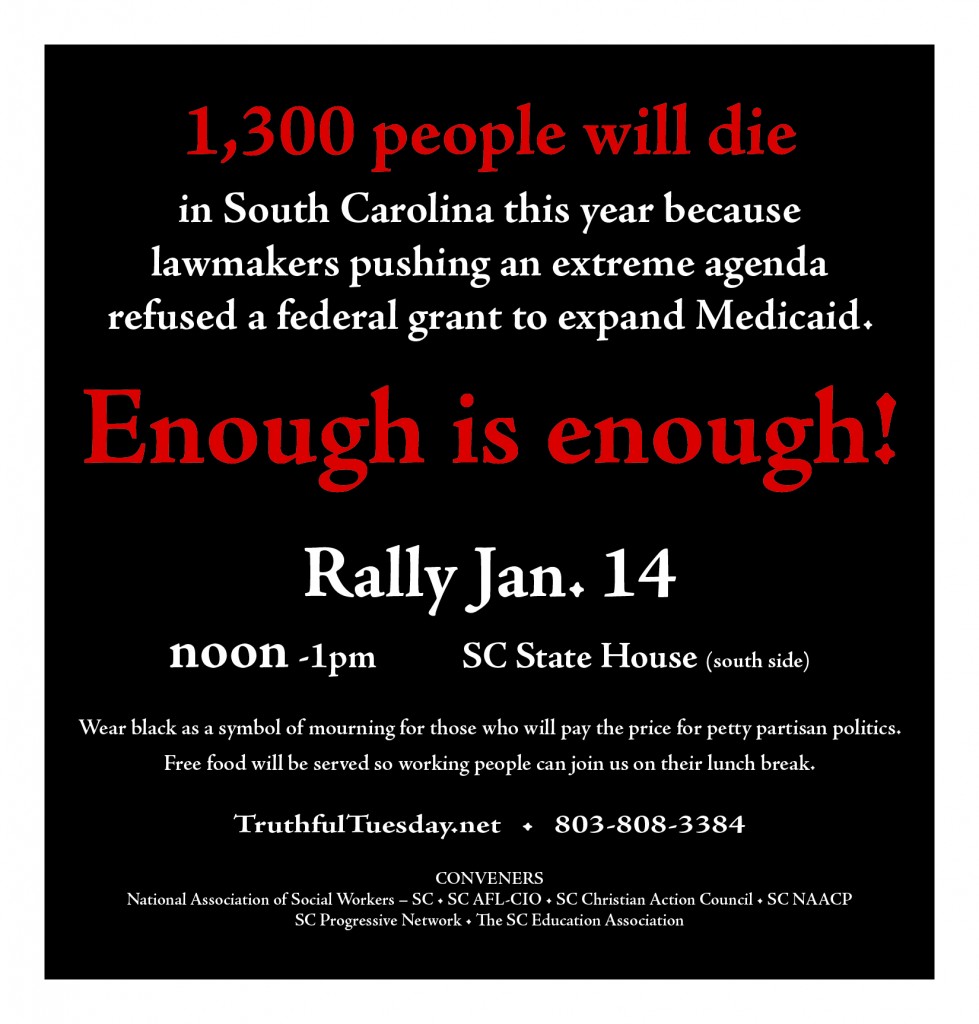 Outraged by lawmakers' refusal to fund education and health care, South Carolinians from across the state will rally at noon on the south side of the SC State House Jan. 14 to demand that lawmakers quit grandstanding and start governing.
The Truthful Tuesday Coalition – a grassroots campaign led by members of the faith community and advocacy organizations – is working to hold lawmakers accountable and to help the public understand the truth: South Carolina is not too broke to fund these core services. It simply lacks the political leadership to properly fund and manage responsible government.
"These are not political issues," said Rev. Brenda Kneece, Executive Minister of the SC Christian Action Council. "These are moral issues we are called on to address." The Council's 16 denominations have endorsed the rally.
Gov. Nikki Haley led the opposition to reclaiming billions of our federal tax dollars to provide health care for South Carolina's poorest citizens by refusing to participate in "Obamacare." These federal funds would have expanded Medicaid to 250,000 people living below the poverty level.
The Affordable Care Act (ACA) was intended to provide health insurance to working people by subsidizing policies for people earning less than $45,000 a year, and to provide free coverage to those earning less than $11,490.
Refusing $1.4 billion to expand Medicaid this year means our state's citizens will continue to have difficulty in accessing affordable care for costly chronic conditions and in accessing the ACA's "essential health benefits" — not the least of which is cost-effective preventive care, warned Dr. David Keely, who heads the state's chapter of Physicians for a National Health Program.
The SC Hospital Association estimates that the $11.7 billion in federal funding being refused through 2020 would create 44,000 jobs and generate enough tax revenue to completely offset the state's 10 percent match required in 2020.
Dr. Robert Oldendick, Executive Director of the USC Institute for Public Service and Policy Research, reviewed a Harvard School of Public Health study on the consequences of states refusing the Medicaid expansion. "The study concluded that every 176 adults covered by Medicaid prevents one death each year. So if we assume that all 250,000 eligible South Carolinians were covered, about 1,420 deaths would be prevented annually."
"It is unacceptable that our lawmakers are willing to throw our neighbors under the bus to make political points," said SC Progressive Network Cochair Virginia Sanders, who works as one of the Network's trained navigators helping people secure insurance through the health exchange. "It's heart-breaking to tell people they are too poor to receive help. These are human beings; not numbers. They shouldn't be political pawns."
All 170 legislators and the governor have been invited to descend the State House steps at 12:30 to join the rally. Rep. Joe Neal will make a statement on behalf of legislators.
"One of our goals is to put a face on what is too often just an ideological debate," said SC Progressive Network Director Brett Bursey. "We need 1,300 people to stand together on the State House grounds to symbolize the human cost of playing politics with people's lives."
The rally will also address lawmakers' continued refusal to adequately fund education. "In 2013, K-12 funding was nearly $500 million below what is required by state law," said Jackie Hicks, Executive Director of The SC Education Association. State higher education funding is 40 percent lower than it was in 2002, and tuition at our state colleges is among the nation's highest.
The Coalition will be calling on legislators to address the fact that our state has the nation's least-competitive elections, with nearly 80 percent of lawmakers facing no major opposition in the general election. "With only about half our citizens voting, and most of us only having one choice at the ballot box, it's a shame that the legislature keeps trying to make it harder to vote rather than easier," said Dr. Lonnie Randolph, President of the SC NAACP.
"The rally is a continuation of the work for sound public policies and a moral budget that we have been doing for years," Bursey said. "The rally is not just an event; it is the launch of the next phase of our ongoing efforts."
The hour-long rally will take place on the south side of the State House at noon on Jan. 14. The initial conveners are the SC Christian Action Council, The SC Education Association, SC NAACP, National Association of Social Workers, the SC AFL-CIO and the SC Progressive Network. Dozens of sponsoring organizations and churches, as well as information on the rally, transportation and parking, can be found at the coalition's web site: TruthfulTuesday.net.
Free food and beverages will be available. Attendees are asked to wear black as a symbol of mourning for the 1,300 who will die this year is South Carolina because of petty partisan politics.
Contact the Coalition at 803-808-3384 or info@TruthfulTuesday.net.