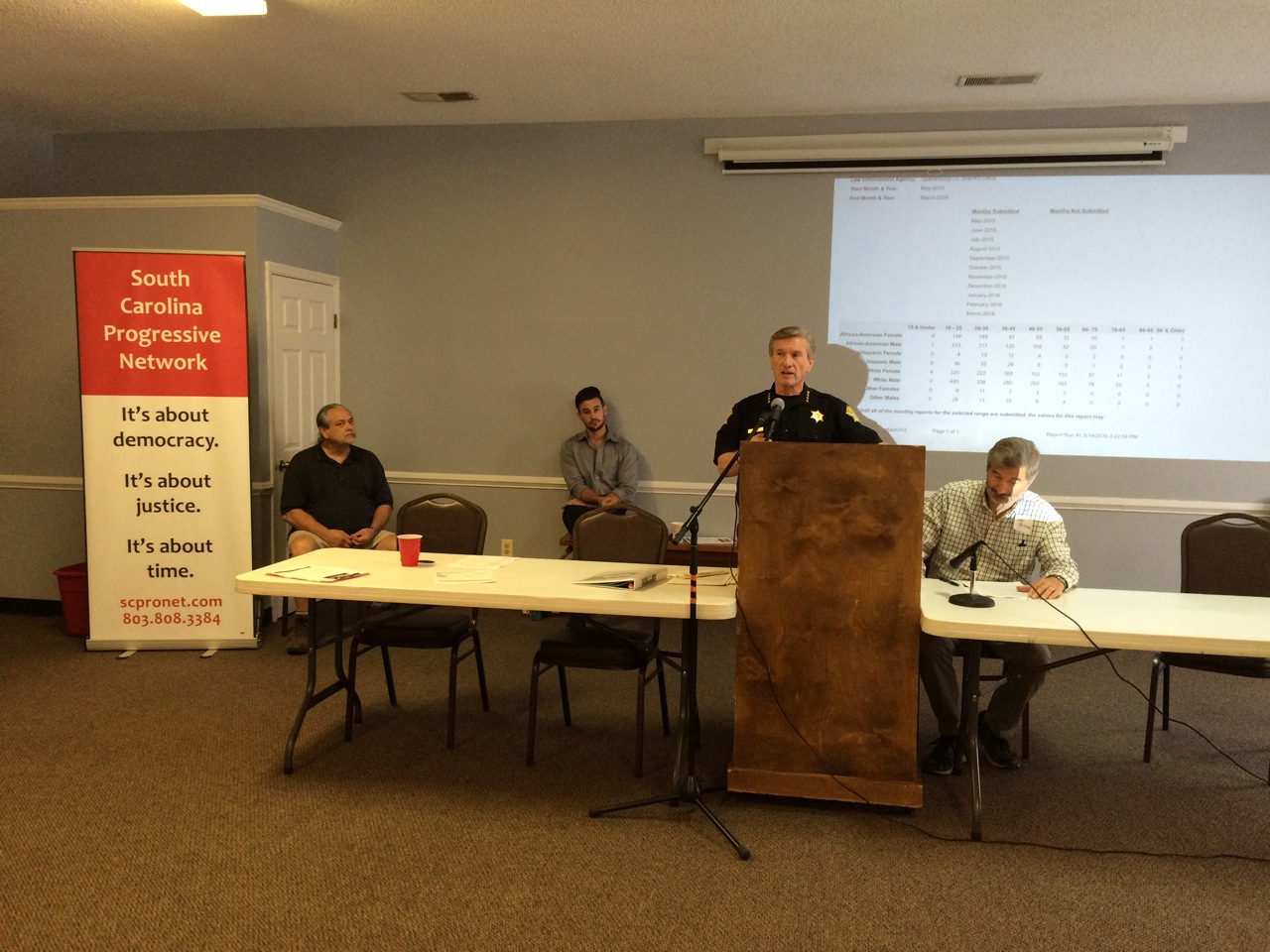 Richland County Sheriff Lott shared the progress and challenges on racial profiling in South Carolina at the Network's spring strategy conference in Columbia.

Brett Bursey, executive director of the SC Progressive Network: Sheriff Lott has been a friend of the people for quite some time now. He participated with Joe Neal and I in television work about racial profiling databases in 2001. And Richland County has taken the lead on that. And the sheriff has taken a little bit of time off from campaigning for his, how many terms?
Richland County Sheriff Leon Lott: Sixth term.
Bursey: For his sixth term, so he's obviously doing a good job as Richland County sheriff. So let's hear it for Leon Lott. (applause)
Sheriff Lott: Thank you.
The problem with all that data is nobody really looks at it, half the agencies don't turn it in, and it's not enough data. Back in '99 and 2000 we were looking at racial profiling and being transparent and creating a citizens advisory council. We required that every deputy, when they stop somebody, they have to call in the stop, location where they stopped them, and why they stopped them. And when they get through with the stop, we have to get the age, race and what they did.
So we have the whole picture, and then our dispatcher takes that and – through the computers we've got – we have each officer's name with the data. And we have somebody look at it; it doesn't sit there like the state's data. We have supervisors look at it, and we check our officers. Is this officer working in a Latino community? Who is he stopping? Is he in a white community? Is he in an African -American community? We have to look at what community they work in to determine who's being stopped. Then you have to look and see are they just stopping one race? One sex?
We actually identified an officer who was stopping Hispanic females, and we saw that there was a problem. So we started pulling his tapes and we found out he was profiling Hispanic females, and actually had him on tape assaulting one. We didn't just terminate him, we arrested him.
What we were doing in 1999 and 2000 had been so successful with us—Rep. Joe Neal and Brett [Bursey] said we need to do statewide. They started off modeling after what we were doing, but by the time [the bill] got passed it was so watered-down it was basically ineffective. One of the most blatant things that made it ineffective was that people weren't forced to do it. We had so many agencies that just weren't turning in the information. Why isn't there some penalty for not doing it? There wasn't.
So the law really hasn't been effective. Rep. Joe Neal, a Richland County representative and one of my close friends, we started back again trying to do something to require agencies to do it. And to give us more information. If you're just doing it for people who get warning tickets, what about people who are stopped and don't get a warning ticket? Or that you give an actual ticket to? Where's the data on them?
So we're not getting the data on everyone who's stopped, and that's what we need-not just a snapshot of a few people who are stopped, but everybody that you stop-and then have it examined. You have to look at what you're doing and why you're doing it. And when you do that, you're able to determine if you have racial profiling. That is the only way you're going to be able to stop it.
We go through the education part of it with our deputies. If they know that we're not going to tolerate anything like that and that you will be arrested and you will be terminated if they do stuff like that, then they have it in their mind that they can't do it. But if an agency allows it or doesn't check, then there's going to be some officers that are actually going to do it. So you have to start at the agency's head—the ones who put the word out that this is not going to be tolerated in our agencies.
One of the things we did to help do that was our citizen's advisory council—27 citizens who represent the diverse community we have in Richland County. We've had it for 16 years. They come in and look at all of our internal affairs complaints, all the police shootings, all our policies and procedures, they look at every single thing we do. They have a voice in the sheriff's department, which is the voice of the citizens of Richland County.
I can't go around and talk to all 500,000 residents of Richland County, but I can talk to their representatives who represent their community. They see what we do in real live time, not six months later, 10 months, not one year later, but they see it as it happens. If we have a shooting, they're getting information as soon as I'm getting information so they can take it back to their communities and let communities know what actually happened. They sit on our hiring board.
When you go through to be a deputy, the last thing you do is go before an interview board. There's five deputies and two representatives from the citizens advisory board, and each one has an equal vote. We want the citizens to see everything we do. The agencies that hide the information are the agencies that are doing something wrong. If you're not doing anything wrong, there's absolutely no reason we can't be open and honest and transparent with every single thing that we do. That's what we do at Richland County, and I get criticized for it. I get criticized for it by other sheriffs and other chiefs who don't believe in it. They don't believe in collecting data on racial profiling. They don't believe in having a citizen's advisory council. They're totally against it.
Sen. [Marlon] Kimpson from Charleston County and Sen. John Scott from Richland County introduced two bills in the current session. One bill was for SLED to have a citizens advisory council. The other bill was for agencies over 300,000 to have a citizen's advisory council. That got shot down immediately by the Sheriff's Association and other law enforcement associations because the sheriffs and chiefs said, "We don't want the citizens to have oversight of what we're doing."
That to me is absolutely ludicrous and crazy, and I'm ostracized by my fellow sheriffs because I believe in that. I ain't changing. I'm not.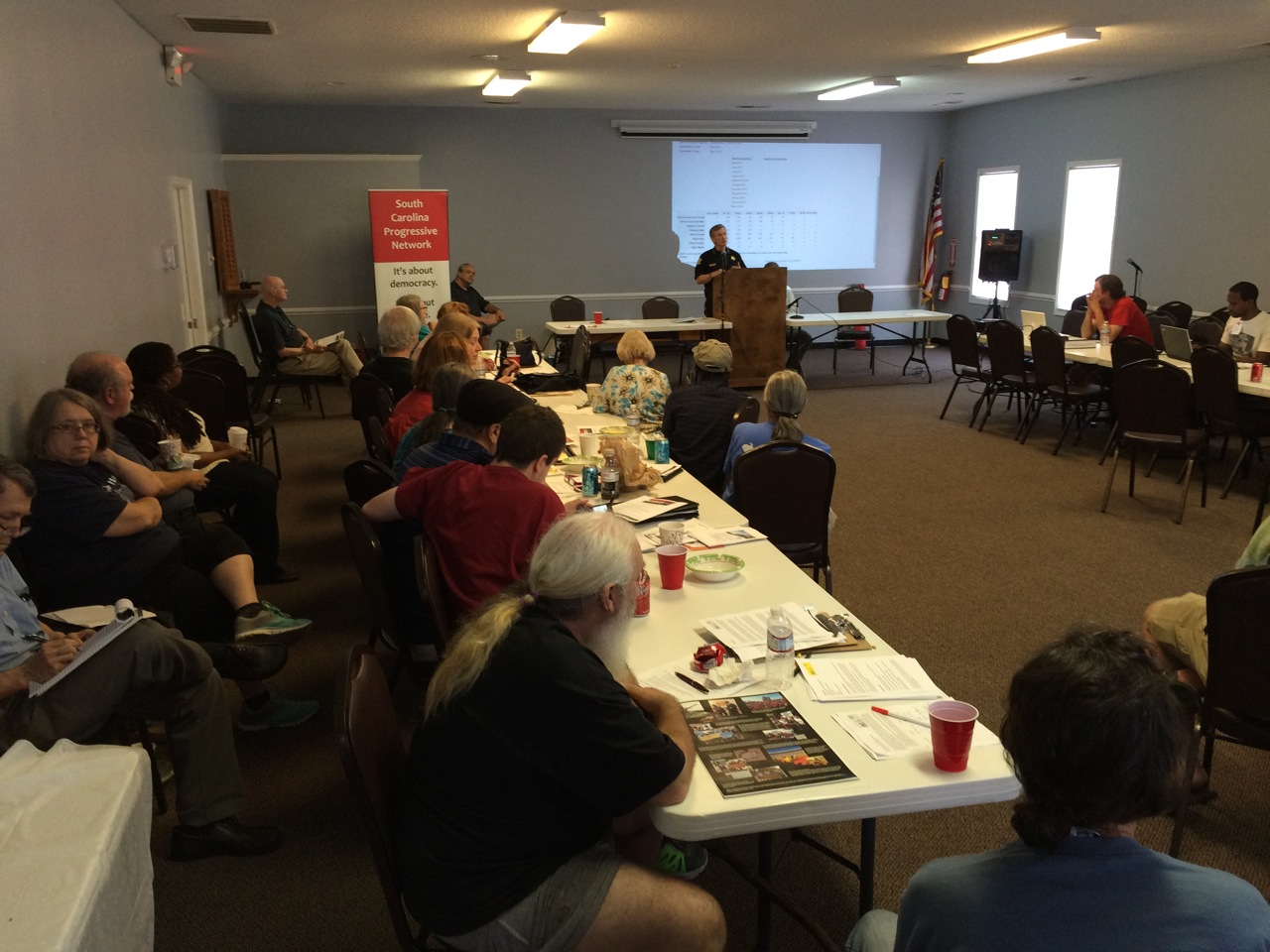 Three years ago, I was elected to be president of the South Carolina Sheriff's Association, and I was to take office this July, so I would have been president in '15 and '16. After Sen. Kimpson introduced the bill on citizen's advisory councils, the Sheriff's Association had a special meeting where they voted me out. They didn't believe in what I was doing and what I was saying. So I'm not going to be the president, so I can't help you out on there. But I am going to be your voice and will speak out loud and clear and publicly that we need to do something about the problem in our communities with our law enforcement doing the wrong thing. And we need the citizens to help us police the police. That's what we need to do. And when we do the right thing, we don't have to worry about it. And by working together, we can do that.
The racial profiling bill is not going to go anywhere this year. Hopefully by next year we will be able to strengthen it and make it effective like it needs to be. But what you're doing [through the Network's racial profiling project] is a start, because if it wasn't for you, we wouldn't have anything. We're doing what we're doing because it's the right thing to do. But without you, we weren't going to Spartanburg, we weren't going to Greenville, we weren't going to these other agencies and asking them the hard questions.
So keep doing what you're doing, because the good cops don't mind it one bit. Thank you.
•••
This May 14 speech was transcribed by SC Progressive Network Member Liaison Kyle Criminger and has been edited for length.