Modjeska Booklet Gets Legs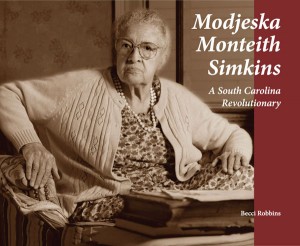 In  case you missed the story in Sunday's The State newspaper about the SC Progressive Network's Modjeska booklet, you can read it here. The booklet has been so well-received that we ordered a second printing. Copies are free, available at the Modjeska Simkins House, 2025 Marion St. in Columbia. This week, we are leaving copies with each of the state legislators, and the booklet is to be recognized on the floors of the House and Senate.
We have submitted a proposal to the Richland County Conservation Commission for funding a series of similar booklets about lesser-known activists. Suggestions welcome. Email becci@scpronet.com or call 803-808-3384.
Medicaid Expansion – the Struggle Continues
On March 4, the US Supreme Court will hear oral arguments that the Affordable Care Act insurance subsidies don't apply in states like SC who refused to go along with the federal law. Gov. Nikki Haley is a party to the King v. Burwell suit, and is spending tax money to insure that the half a billion dollars in subsidies for health insurance that went to SC citizens this past year is stopped. We will be working the press to provide them with real people who will be hurt if the governor wins. Read The State's recent story quoting Tim Liszewski, who worked as one of the Network's Navigators.
City Water War
The Network has been a player in the citizens' effort to stop the city of Columbia from privatizing its water system. It has been interesting to be invited to the table with the mainstream liberals who were our arm-length allies in the Richland County penny sales tax campaign – which they now acknowledge we played a significant role in getting passed by organizing bus riders. They recognize that we have a rapport with working people that they lack. The opponents of privatization had two days notice of a city council meeting that would be considering a resolution against selling the water. The Network was asked to turn out people and we did. 10 of the 12 people who spoke in opposition to privatization were our members. The issue appears dead for now.
Voting Rights Project Update
Our project to gather the affidavits necessary to file a lawsuit against the state for equal protection of students and ex-offenders is slowly moving forward. We have one ex-offender ready to sign on, and another considering. We are meeting with the state Probation, Parole and Pardon Office on March 4. We submitted questions to them last month regarding their practices and procedures for training their officers about their clients' voting rights. They have promised answers on the 4th.