Join us for "An Argentine Affair" without leaving the state or wrecking your marriage. Attendees will enjoy the wines, food and music of Argentina, a tango exhibit by the Durlach-Breedlove Dance team, can bid on a variety of items in a silent auction to benefit the SC Progressive Network, and help honor three SC activists receiving awards for their work.
"An Argentine Affair" will be begin at 7pm on Saturday, Nov. 14, at The Big Apple in downtown Columbia (corner of Hampton and Park).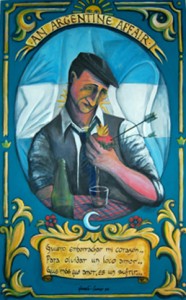 Local artist Alejandro Garcia's original oil painting (50″x30") will be included in a silent auction. The Spanish caption on the painting reads, "I want to drown my heart with wine, to extinguish a crazy love, that more than love, is pain," words taken from Nostalgias, a famous tango.
The evening will conclude with an awards ceremony to honor three of South Carolina's finest grassroots activists with the Network's annual Thunder and Lightning Awards. This year's honorees are: the Rev. Dr. Neal Jones of the Columbia Unitarian Universalist Fellowship, Tom Clements of Friends of the Earth, and Ruth Thomas, founder of Environmentalists Inc.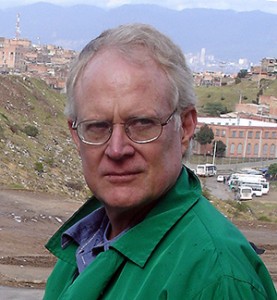 Tom Clements is the Southeastern Nuclear Campaign Coordinator for the US branch of Friends of the Earth, an international environmental organization with affiliates in 70 countries. Based in Columbia, he works on issues related to the state's seven nuclear reactors, four proposed new reactors, the Savannah River Site, and a low-level waste dump. Tom worked for 13 years as a nuclear campaigner with the Greenpeace International nuclear campaign, and for three years was the director of the Nuclear Control Institute in Washington, DC. In addition to a focus on DOE's problematic management of 132 million liters of high-level reprocessing waste at SRS and management of surplus weapons plutonium, Tom is leading the fight in his state against four proposed reactors and the DOE's effort to locate a reprocessing complex at SRS.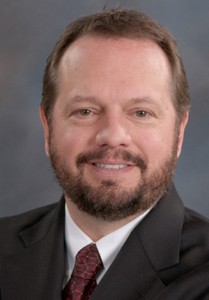 Rev. Dr. Neal R. Jones earned a scholarship to Wake Forest University, where he became president of the Baptist Student Union, majored in political science, and graduated summa cum laude. He had planned to go to law school, but the chaplain at Wake Forest introduced Neal to the social gospel, which convinced him that religious faith could be a motivation for social justice rather than an obstacle. So he decided to become a minister and attended Southeastern Baptist Theological Seminary, where he earned a Master of Divinity degree. Neal never served a Baptist church, however, except for a brief stint as the interim minister of his home church — until they fired him for his liberal sermons. He then joined a more progressive denomination, the United Church of Christ, and served as the minister of a UCC congregation in Rockwell, NC, and then of a Moravian church in Winston-Salem. At these churches, too, his liberal sermons and his involvement in causes for social justice put him at odds with his parishioners. Also, his faith was growing beyond the confines of traditional Christianity and becoming more humanistic and universal. So Neal left the church and went back to school to earn a doctorate in psychology at Baylor University. There he discovered the Unitarian Universalist Fellowship of Waco, Texas, and was soon hired as part-time minister. Discovering Unitarian Universalism was a spiritual homecoming for Neal. For the first time, he experienced a religious community that respected the inherent worth and dignity of every person, that encouraged a free and responsible search for truth and meaning, that worked for peace and justice, and that recognized the interdependent web of all existence. He has been a passionate "evangelist" for UU principles ever since. Neal's psychologist internship brought him to the University of South Carolina in 1999, after which he became the clinical psychologist for the Pastoral Counseling Center of Palmetto Health. Five years ago, Neal was hired by the Unitarian Universalist Fellowship of Columbia. Neal preaches and lives a practical spirituality that seeks personal wholeness, relational respect, social justice, and ecological responsibility. He would like to apply his values to law-making. Neal recently announced his candidacy for South Carolina House District 80.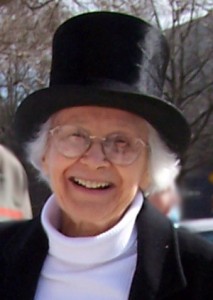 Ruth Thomas, founder of Environmentalist Inc., will receive the Lifetime Achievement Award for her service. In 1974, Ruth was the lone voice against building a facility in SC to process plutonium into a commercial nuclear fuel. Ruth would show up at state and federal hearings on the issue with a cardboard box of documents and face off a dozen high-paid attorneys. The plant — Allied General Nuclear Services — was the target of demonstrations the Natural Guard (the Network's founding organization) organized in Barnwell SC in 1979, which turned out 5,000 people. The facility never operated, and the larger question of using plutonium for commercial power was addressed by Jimmy Carter's presidential executive order banning the use of plutonium. For 30 years, Ruth was often the lone voice in SC Public Service Commission hearings on issues relating to rate payers subsides of nuclear development. Although Ruth moved into a nursing home this fall, she continues her fight against the use of plutonium-based fuel.
Tickets are $25 each; $40 per couple. Reservations appreciated, but not required, by calling 803-808-3384. Proceeds will help sustain the SC Progressive Network's programs for a more just and equitable South Carolina.