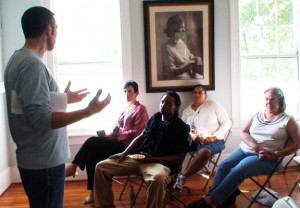 The SC Alliance for Retired Americans held an informational drop-in on May 20 at the Modjeska Simkins House in Columbia. The national Alliance's Bob Kearney and regional director Bill Cea outlined some of the more pressing issues facing seniors and retirees in 2010, including the new health care law, the Fiscal Commission and efforts to privatize Social Security.
SC ARA is one of 30 Alliance chapters in the country. To find out more or to get involved, email scalliance@mindspring.com or call 803-957-8740.
Bob Kearney
Click here to see more photos from the drop-in.