By Becci Robbins
SC Progressive Network Communications Director
It was with real sadness that I learned this morning that Dr. Betty Glad has died. She was, to flip the aphorism, a woman's woman. Although I didn't know her well, I knew well the work she did and admired her moxie. Her obituary tracks a distinguished career that included breaking many gender barriers in academia.
The last time I saw Betty was at a House subcommittee hearing last session at which legislators heard testimony regarding a bill that would require women to view an ultrasound before receiving an abortion. The packed room was thick with tension. When the committee chairman began calling people to the microphone, it became clear that he was giving preference to anti-choice activists, allowing them to go first.
While pro-choice activists shifted in our chairs and exchanged exasperated glances, Betty stood — with her oxygen tank at her side — to say what the rest of us were thinking. She protested the process, demanding that both sides be given equal time. The chairman relented, and called her to the microphone. For the rest of the hearing, the speakers alternated between the two sides.
It was a small victory, but an example of how one woman can make a difference. And she did.
Thank you, Dr. Glad.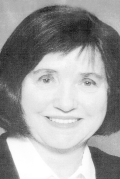 Dr. Betty Glad
COLUMBIA – Dr. Betty Glad, 82, died August 2, 2010. She enjoyed a truly distinguished career as a scholar of American politics and foreign policy. She was the Olin D. Johnston Professor of Political Science and Distinguished Professor Emerita at the University of South Carolina. She was an exemplary scholar, an expert on the American Presidency, United States foreign policy, and political psychology. She was the author of Jimmy Carter: In Search of the Great White House; Charles Evans Hughes and the Illusions of Innocence; Key Pittman: The Tragedy of a Senate Insider, and most recently, An Outsider in the White House: Jimmy Carter, His Advisors, and the Making of American Foreign Policy (Cornell University Press, 2009). She was editor or co-editor of The Psychological Dimensions of War; The Russian Transformation, and other books. In addition, she published dozens of articles, book chapters and commentary. Her first book Charles Evans Hughes was nominated for the Pulitzer Prize. Dr. Glad received a distinguished alumna award from the University of Utah in 2009.
She earned her B.S. degree magna cum laude, and Phi Beta Kappa, from the University of Utah. She received her doctorate from the University of Chicago in 1962. She taught at Mt. Holyoke College, and Brooklyn College, then taught for many years at the University of Illinois """ Urbana – Champaign. She was also a visiting professor at New York University, 1986-1988. She was one of the first women to earn a Ph.D. in Political Science and then teach at a Ph.D. granting institution. She served as the first woman chair of the University of Illinois Department of Political Science. Dr. Glad joined the University of South Carolina in 1989. She was a dedicated teacher and exemplary mentor to untold numbers of graduate students whose careers were enhanced with her care and guidance. As a pioneer and role model for women throughout the Political Science profession, she also was one of the first women to challenge prevailing conventions and gender discrimination in the discipline, and one of the first to attain national and international stature. As a result, she won many awards for both scholarship and leadership throughout her long career, including the Frank D. Goodnow Award from the American Political Science Association for a lifetime of contributions and service to the discipline, and the Harold Lasswell Award from the International Society for Political Psychology for a lifetime of outstanding contributions to political psychology. She served as President of the International Society for Political Psychology, President of the Presidency Research Section of the American Political Science Association, and Vice-President of the American Political Science Association.
She was preceded in death by her parents, Harluf Glad Anderson and Edna Jeannette Geersten Glad and her niece, Cheryl Jensen, of Salt Lake City, Utah. She is survived by her brother and sister-in-law, Jay and Edris Glad and by her great-nephew and niece, Christine and Jason Stout.
Dr. Glad enjoyed music, ballroom dancing, reading, and good conversation. Among the many virtues contributing to Betty's success were courage, strength and tenaciousness. She was a democrat and a Democrat (both little and big D) and loved justice.
Dr. Glad will be buried next to her parents in Salt Lake City, Utah. A memorial service will be held in The Rutledge College Chapel on the historic Horseshoe of the University of South Carolina, Columbia, on Sunday, August 8, 2010, at 2 p.m. Dunbar Funeral Home, Devine Street Chapel, is assisting. In lieu of flowers, tax deductable memorials may be sent to: The Betty Glad Legal Defense Fund of the Women's Caucus for Political Science, c/o Dr. Laura R. Woliver, 425 Dean Hall Lane, Columbia, SC 29209.