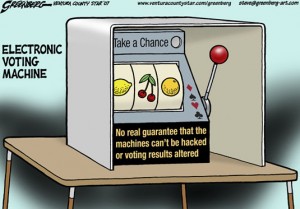 On July 28, Federal Judge Cameron Currie ruled that the SC Election Commission had until Aug. 20 to defend itself against a complaint that the voting machines in South Carolina do not meet federal requirements for record keeping. (For background on the case, see earlier post.)
SC Progressive Network Director Brett Bursey filed the complaint June 17, and the judge gave the parties a month to try and resolve the matter. On July 19, Bursey filed a report that concluded there could be no agreement between the parties regarding an independent audit of the entire voting system.
"I believe that the Election Commission doesn't want a full system audit for fear that it would conclude — like a recent audit in Iowa did — that these machines should be scrapped." Bursey said. "We warned the SCEC in 2004 not to buy these machines, and their continued defense of a voting system that cannot reliably tell us who won an election is regrettable."
Only six states now use a statewide, paper-less system like we have in South Carolina. (Maryland outlawed the paper-less machines last year, but have not funded a replacement.) According to the Verified Voting Foundation, ballots in 38 states are cast on "voter verifiable paper records."
Email network@scpronet.com to receive regular updates on the lawsuit.
Please consider making a secure donation now to help cover court costs. Indicate in the gift information "verified voting." Or make a check to SC Progressive Network and mail to PO Box 8325, Columbia SC 29202. We appreciate your support.