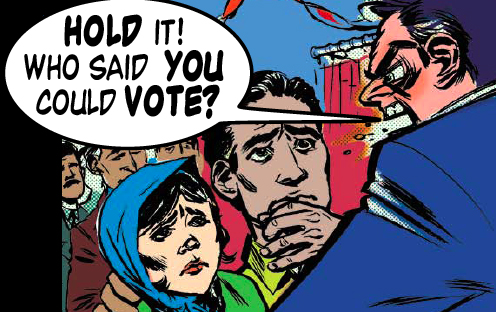 The argument the SC Progressive Network has been making about South Carolina's photo ID law being a Republican plan to suppress the black vote has been taken up by new champions: federal judges across the country!
The 4th Circuit Federal Court of Appeals that struck down the North Carolina photo ID law on July 29 ruled "the demonstrated ingenuity of state and local governments in hobbling minority voting power… imposes cures for problems that didn't exist."
Most recently, the three-judge appeals court in Richmond ruled that North Carolina's photo ID law was unconstitutional. It also voided new NC laws that cut early voting, ended same-day registration and out-of-precinct voting.
Although North Carolina's "reasonable impediment" ballot for registered voters without a photo ID was modeled after the SC photo ID law, Executive Director of the Southern Coalition for Social Justice Anita Earls advised that the ruling doesn't automatically apply to South Carolina. Earls has 20 years of experience as a top attorney in the Voting Rights Section of the US Dept. of Justice. The SCEJ has been advising the Network on voting rights laws, and was a party to the North Carolina case.
Responding to the Network's inquiry about the ruling's impact on South Carolina, Earls said, "We think that there are some important distinctions among reasonable impediment schemes, and even though the North Carolina provisions were modeled on the South Carolina law, there is no immediate and automatic invalidation of South Carolina's photo ID requirement as a result of this decision."
Earls said that what won the fight in North Carolina was the difficulty in getting the free photo ID there. The operation was poorly run by the state DMV, rather than by each county board of elections, as in South Carolina. Opponents of the photo ID law in North Carolina were able to prove that people had a hard time getting the free ID and that many of the impediment ballots were not counted as required by law.
The task before opponents of the South Carolina photo ID law is to gather the data on the impact of the law on the 202,484 registered SC voters who the State Election Commission identified in 2012 as not having a DMV photo ID.
Network Director Brett Bursey recently requested the State Election Commission to provide a tally of how many of the provisional ballots cast in the 2014 election were for lack of photo ID, and how many of those impediment ballots were rejected. "I was told that the state Election Commission did not gather those numbers and I would have to go to each of the 46 counties for that information," Bursey said. "Without that data, we can't determine if our photo ID law had the same impact on black voters as it did in North Carolina."
The Network will be seeking the information needed to determine the law's impact.