By Jeff Koob
Columbia, SC
We're undoubtedly the most powerful nation on earth, and arguably the most prosperous. All of the other major industrialized nations recognize health care as a basic human right, not a privilege.
Republicans who oppose this principle are on the wrong side of history. They say they're against the Affordable Health Care Act because it's unworkable, but have no alternative plan to care for people who are too poor to get preventive health services, or too disabled to support themselves financially. The conservative hardcore doesn't think that the government should be responsible for caring for our neediest citizens, even in times of relative prosperity.
Many Republicans in the SC legislature want to turn down Medicaid funds that would prevent illness and save lives, purely on ideological grounds. The federal funds SC turns down will go to other states.
What's happened to Christian values like, "love thy neighbor as thyself"? When Jesus was asked, "Who is my neighbor?" he told the story of the Good Samaritan. Legislators who profess to be Christians seem to be more wedded to the values of dog-eat-dog capitalism: "Every man for himself."
They are like the priest and the Levite who passed by their injured neighbor, unconcerned with his plight. They need to put the welfare of the neediest of their constituents above their more-conservative-than-thou political posturing.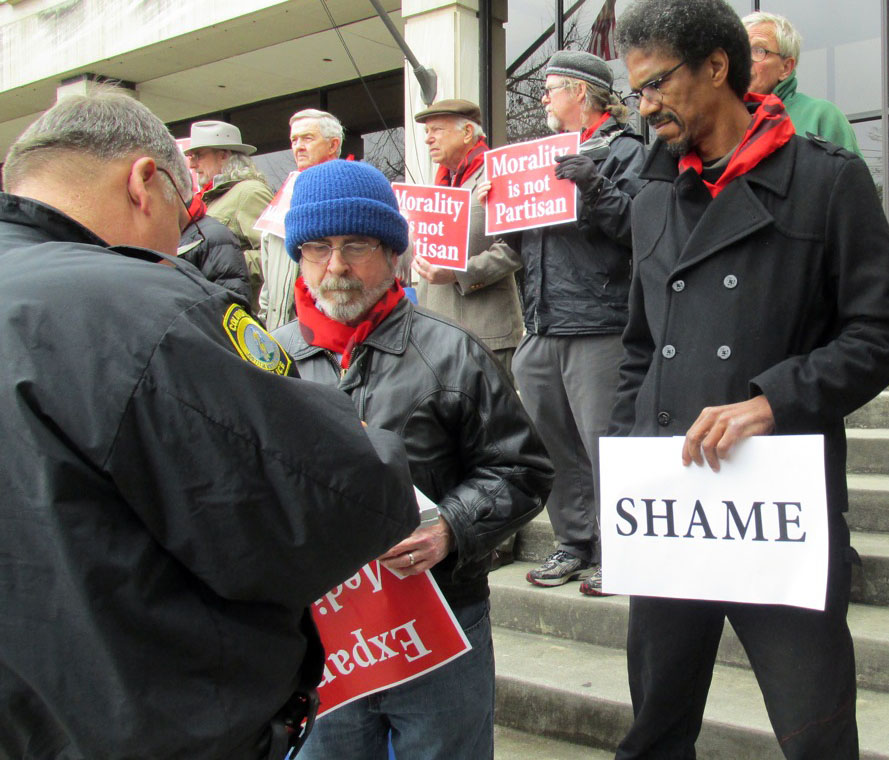 Jeff Koob (wearing blue hat) was among 17 people arrested on March 18 for blocking the road outside the SC State House as part of a sustained lobbying effort to pressure lawmakers as they debated the "Nullify Obamacare" bill. Read more about South Carolina's Truthful Tuesday movement here.