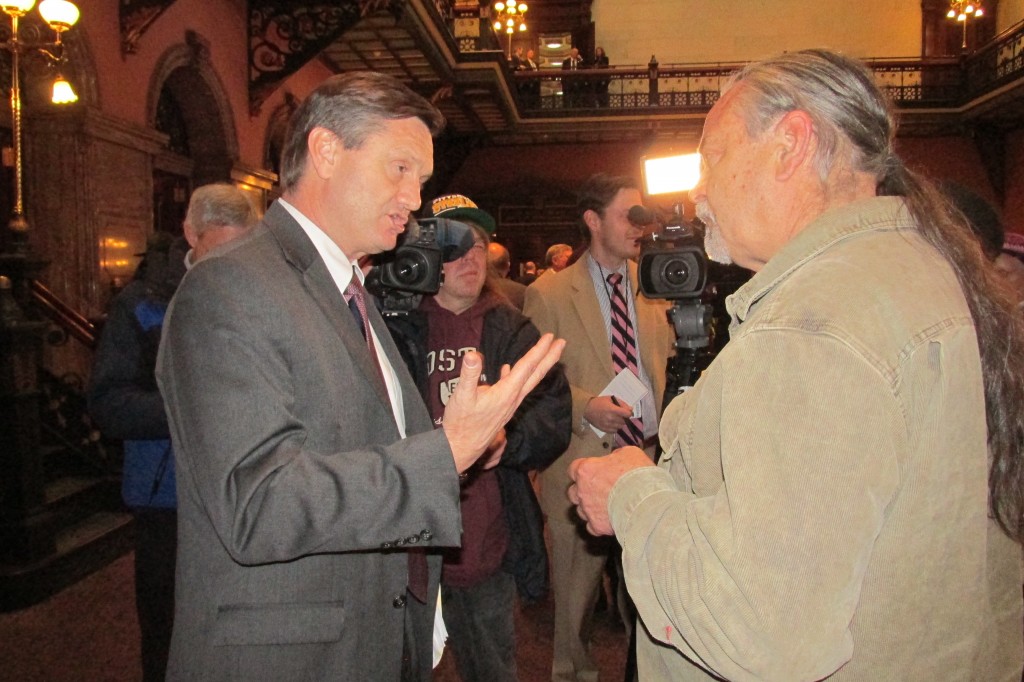 SC Progressive Network Director Brett Bursey challenges Sen. Tom Davis outside Senate chambers before senators take up the "Nullify Obamacare" bill. Truthful Tuesday activists have been lobbying lawmakers since the legislature reconvened on Jan. 14.
The "Nullify Obamacare" bill was voted down in the SC Senate late Wednesday night, with a vote of 33 opposed to nine in favor of the House-passed version. It's complicated, but here's a breakdown.
Sen. Tom Davis (R-Beaufort) completely rewrote H- 3101, which expressly rejected Medicaid expansion and regulated federal ACA Navigators. (The Network was among the groups in South Carolina awarded a grant to help people navigate the insurance marketplace to be in compliance with the new health care law.)
The amended bill died after Lt. Gov. Glenn McConnell ruled that Davis' amendment was not germane to the House version. McConnell, who serves as president of the Senate, said of the House version, "I was having trouble understanding what that bill really did."
Sen. Brad Hutto (D-Orangeburg) raised a point of order that the regulations placed on Navigators had nothing to do with the original bill. McConnell agreed, and ruled Davis' entire amendment out of order.
In a move seen as disrespectful in the body that prides itself on being deliberative and cordial, Davis appealed McConnell's ruling to the Senate floor. Twenty-eight senators, 14 from each party, upheld the decision to kill Davis' amended bill.
With Davis' version of H-3101 dead, the vote then was called on the original House version that even Davis had declared unconstitutional. Only nine Republicans voted to adopt the "Nullify Obamacare" version of the bill. In the end, 19 Republicans joined 14 Democrats to reject the bill on a 33 – 9 vote.
That only nine of 28 Republican senators took the rigid Tea Party stance against "Obamacare" is seen by SC Progressive Network Director Brett Bursey as "a rare victory for rational thought in the legislature."
That said, Bursey cautioned that the damage has already been done, calling the time-sapping legislative posturing "bad political theater." South Carolinians are already suffering from the state's refusal to participate in the Affordable Care Act, with more than 1,000 deaths predicted here this year because lawmakers refused to accept Medicaid expansion money (which, we remind you, is OUR tax dollars.)
The death of H-3101 doesn't mean that South Carolina lawmakers will stop obstructing the ACA. South Carolina is still refusing money for a state insurance marketplace and Medicaid expansion. The Davis bill would have added regulating state Navigators and blocking public bodies from helping people get insurance to the state's anti-Obamacare campaign.
"A goal of our Truthful Tuesday protests," Bursey said, "was to get people talking, change the dialogue, and reduce the Tea Party influence on Republicans. That is happening."