Brett Bursey
Executive Director, SC Progressive Network
When the LA Times ran its review of Building the Wall last March, the headline said the play "imagines the unimaginable." That was then.
When the Network was invited to a preview performance of the play at Trustus Theatre in April, I remember the conversations speculating as to whether Donald Trump would still be president in October, and whether the wall would still be an issue.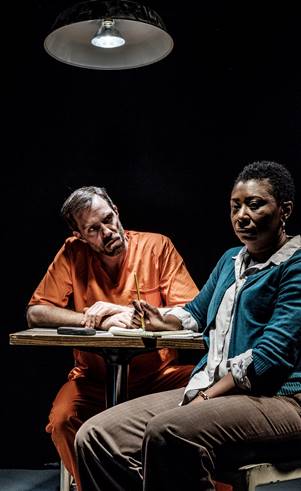 Six months later, Trump is still president and, as of Aug. 31, the Department of Homeland Security has awarded contracts to four companies to build prototypes of the wall. The winner of the contest will get a slice of the $1.8 billion in the president's 2018 budget to begin building it. The budget also includes funding for 10,000 new beds in private prisons to house those without the proper papers.
In South Carolina, four counties have signed 287g contracts with the federal Immigration and Customs Enforcement agency with the chilling acronym of ICE. Law enforcement authorities in Charleston, Lexington, York and Horry counties have agreed to make deputies in their jails available for training by ICE, and have them carry out immigration enforcement duties, like checking the immigration status of everyone booked into their county jails. In addition, deputized officers have broad discretion in the decision to issue a Notice to Appear (NTA) to initiate removal proceedings or negotiate a Voluntary Departure.
The counties then call ICE to come and get undocumented prisoners, who are then sent – often after just 48 hours, to a private prison in Lumpkin, Ga. The Stewart Detention Center is the largest of the more than 400 detention centers across the nation that get paid to house those suspected of being undocumented. Operated by the Corrections Corporation of America, the for profit prison averages $97,647 federal tax dollars a day at $60.50 a head. It's the largest employer in in the county, accounting for half its annual budget. ICE's detention budget was $1.7 billion last year.
North Charleston police have been reported profiling Hispanic-looking drivers, stopping them for failure to signal a turn, weaving or other pretexts. If the driver doesn't have a driver's license, it's off to the county jail, followed by a call to ICE, and then on to Georgia. This is usually without the benefit of legal counsel, and often without notification to family members.
The chair of Charleston County Council, when asked about the county jail's agreement with ICE, said that he thought it was mandatory to cooperate with ICE and didn't know that the sheriff had signed a memorandum agreeing to take prisoners as well as a per-head payment for detaining them.
The sheriff of Lexington County recently told a local audience that he signed on to the ICE detention program for community safety. A local resident pointed out that it was a policy matter, and that county council uses his tax money to pay the jail's upkeep and the salary of his officers.
The Network has partnered with the Grassroots Alliance for Immigrant Rights (GAIR) to provide support and services to the families being torn apart by this administration's anti-immigrant policies, financed in part by our county taxes. The organizing training and policy education GAIR is doing to empower leadership from the impacted communities is important. Contact the SC Progressive Network for more information or find GAIR on Facebook.
We encourage progressive citizens to inform and challenge their county councils and sheriffs, where the ICE agreements are in effect or being considered, because the Trump administration's anti-immigrant campaign is unwarranted, cruel political posturing that is unworthy of a great nation.
Building the Wall opens with a prisoner in an orange jump suit being interviewed by a professor who asks if he is a racist. As the play unfolds, you realize that he was a regular guy, just doing a job in a private prison where ICE was sending more and more immigrants without papers. As we realize what the prisoner has done, we are confronted with the horror of how ordinary citizens become instruments of evil.
As Trump's policies destroy real lives and dreams, the descent into the unimaginable becomes more than a play. These are your tax dollars at work; this is what your complicit silence builds.
•  •  •
The Network is sponsoring the run of Building the Wall at Trustus, with two benefit performances Oct. 5 and 7.
Oct. 5, 7:30pm – Premiere – Buy tickets HERE
SHOW CANCELLED Oct. 7, 2pm – Matinee
Light refreshments, open bar. The one-hour show will be followed by Q&A with GAIR Director Laura Cahue and members of the impacted community. Get an inside view of what's happening on the ground in South Carolina. For more information or to RSVP by phone, call the Network's office at 803-808-3384.
Proceeds to benefit the Grassroots Alliance for Immigrant Rights and the SC Progressive Network