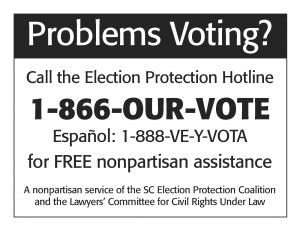 The SC Progressive Network and the National Lawyers Committee will hold an election protection workshop on Sept. 16 to prepare volunteers to monitor the upcoming general election. The Network has worked the past three general elections by responding to calls to the 866-OUR-VOTE hotline.
While most of the calls were from confused voters, some reported incidents of voter intimidation and efforts at vote suppression. Some calls were referred to SLED or the Justice Department.
We are seeking volunteers for Election day, as well as on the days leading up to it. Volunteers are needed to deliver signs to the county election boards for placement in the precincts, to monitor the operation of the voting computers, and to report problems at the precincts. A South Carolina Legal Manual prepared by the Election Protection Coalition is available to volunteers that answers a wide range of questions.
The workshop on Sept. 16 is to train volunteers to understand the laws governing elections and how to resolve problems. The training is free, and will be held at the Network's office at 2025 Marion St., downtown Columbia.
For information or to RSVP, contact the Network at 803-808-3384 or network@scpronet.com.