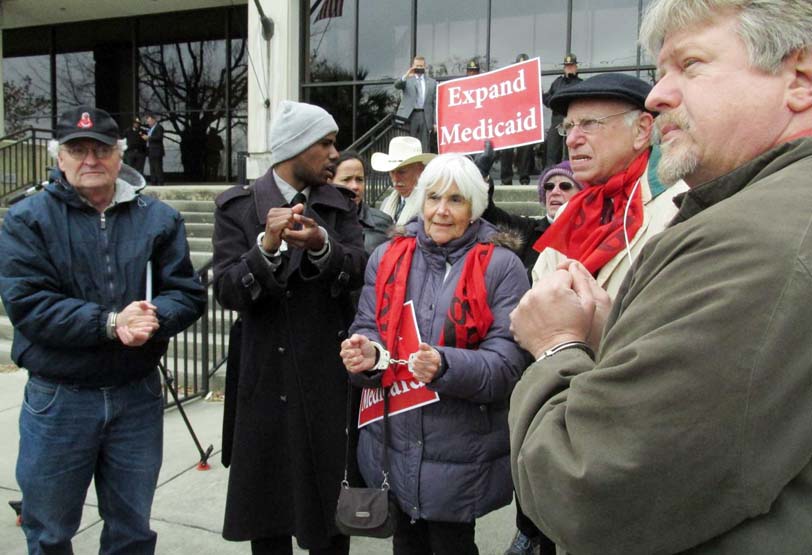 Pat Jobe (left) was one of 11 protesters arrested March 4 for blocking the road to the entrance of the SC State House on the day the Senate took up the "Nullify Obamacare" bill. With him are (from left) Wayne Borders, Kitt Grach, Jim Childress and Shawn Crowe. They are part of the Truthful Tuesday movement, which aims to educate the public about the Affordable Care Act and to pressure state lawmakers to expand Medicaid.

By Rev. Pat Jobe, Greenville Unitarian Universalist Fellowship
The young, Latino police chief, Ruben Santiago, could not have been more polite, more professional, more thorough. "I'm giving you one more chance to get out of the road and back on the sidewalk. You understand you are breaking the law and are about to be arrested?"
I will not soon forget the anger and frustration on the faces of the Capitol police, the black Smokey The Bear hats whose job it is to protect and assure smooth operations to the members of the General Assembly as they photographed us and ignored me when I said, "Thank you for being here. Thank you for your service."
Had we chosen to disrupt the immoral actions of the General Assembly on its property, on the jurisdiction of the men in the black hats, we would have faced a possible $5,000 fine and three years in prison. By blocking the driveway on a Columbia city street, we faced a traffic ticket, handcuffs, a ride in a police car and about an hour of processing in police headquarters. We also have a court date of March 28.
There are so many vignettes, so many questions, so many stories to tell but I think I'm out of bed at five in the morning because of the questions. Why did we do it? The refusal of the legislature and the governor to take billions in new Medicaid money is dooming tens of thousands of poor people to less than the best medical care available to their wealthier neighbors. We have medicine that saves lives. In many cases, an estimated 1,300 this year in South Carolina, the result will be death.
People are going to die.
In addition to cancer survivor Jim Childress (and would he have survived had he been poor? Another question) a third Greenville UU made the trip to Columbia. She hopes to remain anonymous because she's looking for work right now. But as we rode to Columbia she told of a friend who had stomach pain, was bent double with pain, was urged by his coworkers at Walmart to go the emergency room. He didn't go. He failed to show for work for a few days and was found dead in his apartment. He had made it clear that he didn't seek medical care because of the cost. He had made an earlier trip to the hospital and had received a bill for $30,000.
Did we do any good? If my Facebook page is any indicator, we got the attention of lots of folks who liked what we did. If the questions confronting Sen. Tom Davis as he walked into the Senate lobby Tuesday are any indication, yes, we did some good. Davis is seeking to amend the anti-Affordable Care Act law to prohibit any "public body" like the city of Greenville, or our libraries from helping anybody sign up for the Affordable Care Act. He would also like to make it a difficult, to impossible, for any private organization, like the SC Progressive Network, to sign people up for the Affordable Care Act.
Our immediate past president at the Fellowship, Richard Kelly, has encouraged me to consider a sermon on our becoming a police state. I wonder if I could be arrested for that?
But being an insufferable zealot, I also wonder why it took me 60 years to get arrested, to commit an act of civil disobedience. Why not in the 60's and 70's to support civil rights, voting rights, women's rights, gay rights, the environment, the poor, good nutrition, to oppose every corporate and government madness that seeks to disempower anybody and place the good of one group above the good of another? Why have I not grabbed every bullhorn, stood on every stump, and in the words of John Prine, "screamed and hollered and cried?"
The story is probably legend, but when Thoreau was jailed for refusing to pay a tax to support the Mexican War, Emerson is said to have passed the jail and seen Thoreau inside.
"Henry, what are you doing in there?" Emerson asked.
"Ralph, what are you doing out there?" Thoreau asked.
I don't know when I will be back in police custody, and I fear it will cost more next time. But I know civil disobedience is an effective tool in the struggle for The More Beautiful World Our Hearts Know Is Possible. I capitalize that phrase because it is the title of a good book by Charles Eisenstein that is challenging me to do all I can to get food to the hungry, healing to the sick, and peace to a world tortured by all kinds of silly wars.
Thank you for the huge wave of encouragement I have received for my time in handcuffs and my ride in the back of a police cruiser.
•••
Pat Jobe likes Mark Twain's tease of Lord Byron, "On with the dance. Let joy be unconfined is my motto. Whether there is any dance to dance or any joy to unconfine."