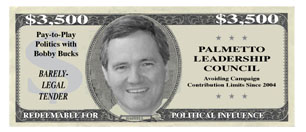 In their ongoing efforts to reduce the corrupting influence of money in state politics, the SC Progressive Network and Common Cause SC, will hold a press conference April 18 at 5:30pm at the courtyard entrance to the Wilbur Smith Building at Gervais and Sumter to bring attention to the high-stakes game of pay-to-play politics.
House Speaker Bobby Harrell is hosting a fundraiser at 6pm for his political action committee, the Palmetto Leadership Council, on the building's 20th floor. Membership in his PAC is $3,500.
"The Speaker's leadership PAC allows wealthy donors to get around campaign contribution limits," said John Crangle, Director of Common Cause SC. "It's the most egregious example of pay-to play politics."
Crangle's group was instrumental in getting the state Senate to pass a rule last session banning leadership PACs. "We want to raise public awareness about how Speaker Harrell's leadership PAC not only enhances corporate influence, but greatly leverages the Speaker's power over the House," Crangle said.
"Bobby Bucks" valued at the $3,500 cost of membership in Rep. Harrel's PAC will be doled out to the public and those attending his fundraiser.
Text on the back of Bobby Buck: Money — rather than good ideas — fuels South Carolina's politics. Ninety percent of the candidates who spend the most money win. An incumbent who spends the most money, has a 98 percent chance of being elected.
While state ethics laws limit campaign contributions to House races at $1000, a proliferation of political action committees (PACs) allow deep-pocket donors to get around the limit.
For example, the Palmetto Leadership Council is a PAC headed by the SC House Speaker Bobby Harrell. Membership in his Leadership PAC cost $3,500. Harrell says on his PAC's web site, "We are building a unique coalition between leaders in the private sector and those of us engaged in public service."
While Harrell, or a corporation like AT&T, can only make a $1000 donation to a House candidate, AT&T can make a $3,500 donation to Harrell's Leadership PAC, which can then make another $1,000 donation to the same candidate.
Harrell's PAC has raised nearly $1 million since its founding in 2004, with 98.7 percent going to Republican candidates (79 percent incumbents). More than 89 percent of the candidates backed by Harrell's PAC won election.
Harrell's largest donations were $100,000 checks written to the state Republican Party. The party can then make a $5,000 contribution to the same candidate that received the $1,000 maximum from Harrell's PAC. It's a way around campaign finance laws, and it's legal.
Join the SC Progressive Network and Common Cause's efforts to reduce the influence of money in politics. Tell Rep. Harrell and other House members to follow the state Senate's lead and end House leadership PACs.
Information gathered from:
The National Institute on Money in State Politics
(enter Palmetto Leadership Council in the search block)