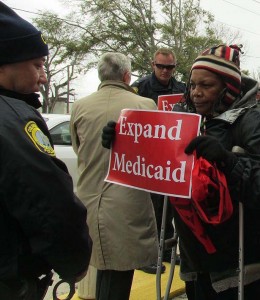 Over the three weeks that the South Carolina Senate debated a bill to "nullify Obamacare," 28 people were arrested for blocking the legislators' entrance to the State House garage. Twenty seven of those arrested requested a jury trial, and the City of Columbia's response is expected to be announced in Columbia Magistrate's Court on Tuesday, May 6, at approximately 9am. A 10am press conference will follow the hearing.
"We were arrested to bring attention to our state's immoral refusal to accept Medicaid funding for our states poorest citizens," said the group's spokesperson, Rev. Tom Summers.
Then-interim Columbia police chief Ruben Santiago, who oversaw the first round of arrests, said recently, "Prior to the protests, I didn't know that we had turned down a free Medicaid card for all the homeless people in Columbia. You can't imagine what a difference that would have made, not only in the lives of our homeless citizens, but to the police who have to deal with them daily."
Santiago said that a lack of medical care and prescriptions for the homeless have turned the cops into "social workers with guns."
The SC Progressive Network and its Truthful Tuesday allies will continue working to get SC to implement the Affordable Care Act by launching a statewide "Healthy Democracy" campaign to educate the 123,279 registered SC voters living below the poverty level who were denied a free Medicaid card.
To put this number in perspective, the anti-ACA candidate Nikki Haley won the governor's race in 2010 by 59,971 votes. If the people denied free health care turn out and vote, the next governor will support the ACA.