In keeping with the Network's analysis that there are few races that aren't preordained in South Carolina, through gerrymandered districts and other tools that rig the system, SC ProVote, the Network's C-4, picked two campaigns on which to spend our resources.
In the campaign for Senate District 17 (Fairfield, Chester and York), we supported Mike Fanning, a progressive candidate who we thought had a solid chance at winning. In the other campaign, our mission was to remove the Lee Bright from Senate District 12 (Greenville, Spartanburg) by promoting his Republican opposition.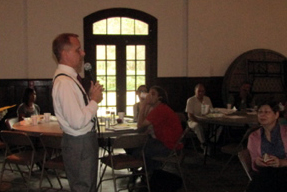 Mike Fanning speaks to at the Network's annual fall conference at Penn Center.
We are pleased to report that our preferred candidates won in both races.
Progressive Network member Fanning forced a run-off and beat the longtime Democratic incumbent Creighton Coleman. Network volunteers made hundreds of phone calls and our Rock Hill chapter knocked on many doors in the York County portion of the district. We are thrilled that he will be an ally in the State House.
Sen. Lee Bright, the indefatigable bigot who wages futile battles against civilization, will not be going back to the Senate. Our upstate members made calls to Democrats encouraging them to vote for Spartanburg attorney Scott Talley in the June primary. We know Talley from his time in the House and consider him rational. While we don't expect Tally to be progressive, we are reminded that there are no permanent friends, or permanent enemies in the legislature, only temporary allies.
Crossover voting in the primary has long been a taboo. But now that political districts have been drawn to insure Republican dominance of the legislature, Democrats in these districts won't have a say in who represents them unless they vote in the Republican primary. 75% of the 170 legislators are chosen in the primary, so the majority of citizens only have one person to vote for in the general election – like the old Soviet style elections we used to make fun of.
The Network has long argued that we can't rely on an electoral system that is driven by money and corporate influence to solve our problems. We must take on and sustain, the long, hard task of building a popular movement with the power to make real change.