The SC Progressive Network will hold its 16th annual fall strategy summit Oct. 29 at Brookland Baptist Fellowship Hall, 1066 Sunset Blvd., West Columbia. Grassroots activists from across the state will gather to co-ordinate plans for the coming legislative session and beyond.
"We have been building a statewide progressive movement for 16 years," said Network Director Brett Bursey. "We are now faced with historic opportunities due to Wall Street greed, anti-government politicians, and a state budget robbed by special interests."
Most recently, the Network has been leading a grassroots fight against special-interest tax breaks that keep billions out of the state budget.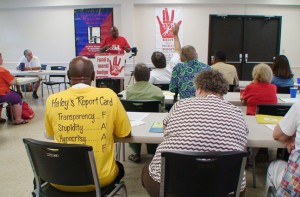 It also has been working hard to educate and mobilize communities statewide in an effort to block South Carolina's new voter ID law.
"The unnecessary and costly requirement for voters to have a state-issued photo ID is a partisan attempt to suppress the vote," said Network Co-Chair Rep. Joe Neal. "It is no coincidence that minorities, seniors, students, rural and low-income voters will be most affected, as they historically vote Democratic. We will continue our work to have this law blocked."
In its Oct. 26 response to the US Dept. of Justice, the State Election Commission deleted voters who have been dropped from the list of voters without photo IDs due to a criminal conviction.
"There are tens of thousands of voters who have completed a criminal sentence, who are eligible to vote, who won't be notified of the new law," said Rep. Neal. "There are over a quarter-million registered voters without DMV IDs, and there is no doubt that many of them will be disenfranchised."
Network Co-Chair Donna Dewitt is also the President of the SC AFL-CIO, a statewide federation representing over 80,000 current and former union members. "The governor has declared outright war on workers rights, and is making the ridiculous argument that our economy can be improved by suppressing wages," Dewitt said. "We've got to connect the dots between the anti-worker, anti-immigrant, anti-minority laws being passed and expose them as the corporate power grab that they are."
The summit begins with a 10am meeting of organizations and individual activists for Network housekeeping. The meeting is open to anyone interested in knowing more about the Network and its coalition members.
At 1:30, the public is invited to take part in an engaging presentation by Dr. Mike Fanning of the tax reform group ROAR SC, who will argue that the state's not broke; the system is. His show is part comedy and 100 percent shocking truth. Dr. Fanning will field questions from the audience. Later, we'll move the discussion to tactics and strategy to move this issue in the coming months.
"If you are concerned about the economy and the corporate-sponsored assault on democracy, you don't want to miss this event," Bursey said. "These are the hard times we have been preparing for."
You don't need to be a Network member to attend. Nor do you need to stay the whole day. Come when you can; leave when you must.
Registration is $10, which includes a Mexican buffet at 12:30 catered by Tio's. The public session beginning at 1:30 is free. RSVP required for lunch at 803-808-3384 or network@scpronet.com.