The SC House Judiciary Committee today debated a bill to require voters to register by party to vote in party primaries. The SC Progressive Network opposed it, arguing it posed an unnecessary impediment to voting rights. South Carolina has more legislators chosen by primary than any other state.
Enough Republicans on the committee had concerns about limiting voters' options in primaries — which are paid for by all taxpayers — to send the bill back to subcommittee, making it unlikely the bill will pass this session.
Network Director Brett Bursey pointed out to the committee that 20 of its 25 members had no opposition in the general election and they won their seat in the primary. This applies to both Republicans and Democrats; see memo below.
A majority of the committee members won 99 percent of the vote in their uncontested general elections.
"Sixty-five percent of South Carolina voters had only one candidate to vote for in the last general election for legislators," Bursey said. "If you can't vote in the primary, you don't have a voice on who represents you in the State House."
Due to partisan redistricting over the past 30 years, South Carolina has the least competitive general elections in the nation. The creation of "safe" legislative districts resulted in 80 of the states 124 House districts (65 percent) having only one major party candidate on the general election ballot. In these 80 races, the voters only opportunity to cast a meaningful ballot was in the primary.
As long as the majority of elections for the legislature are decided in the primaries, all voters must be afforded the opportunity to participate in open primaries. Until our general elections are competitive, restricting participation in the primaries effectively prohibits citizens from casting a meaningful vote for their representative.
Twenty of the 25 members of the House Judiciary Committee had no major party opposition in the 2010 general election. These members took office by winning their party's primary, often with no opposition.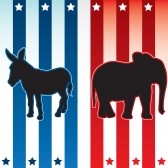 House Judiciary members with general election opposition (with percentage of general election vote)
Nanny 66% R
Bannister 75% R
Quinn 72% R
Peter McCoy 47% R (Anne Peterson Hutto 43%, Eugene Platt 8%)
Leon Stavinakis 55% D
House Judiciary members with NO general election opposition (with percentage of general election vote)
James Harrison 99% R
Alan Clemmons 99% R
George Hern 99% R
Jenny Horne 99% R
Dan Hamilton 87.92% R
Karl Allen 99% D
Derham Cole, Jr. 99% R
Eddie Tallon 99% R
Walton McCloud 98% D
Greg Delleney 99% R
Boyd Brown 98% D
David Weeks 99% D
Laurie Slade Funderburk 99% D
Thad Viers 99% R
James Smith 99% D
Todd Rutherford 88% D
Tom Young 99% R
Bakari Sellers 99% D
Seth Whipper 99% D
Mike Sottile 99% R