By Becci Robbins
SC Progressive Network Communications Director
Following the federal court ruling that approved a substantially modified version of South Carolina's voter ID law, SC Progressive Network Director Brett Bursey called the venture "very expensive theater."
The ruling begins by noting "South Carolina's new (photo ID) law…does not require a photo ID to vote."
While Gov. Nikki Haley crowed, "This is not just a win for South Carolina, this is a win for our country," and state Attorney General Alan Wilson hailed the ruling as a vindication of Republican state legislators, the law the court approved is not the one that went to Washington.
District Court Judge Bates said in his opinion, "Act 54 as now pre-cleared is not the Act 54 that was enacted in May 2011," when signed by Gov. Haley.
While the Court acknowledged "an absence of recorded incidents of in-person voter fraud in South Carolina," it found that "preventing voter fraud and increasing electoral confidence are legitimate" reasons for the law.
"After several years of divisive and racially charged debate on this unnecessary law," Bursey said, "after $2 million in taxpayer money spent defending it, and several million more dollars to implement it, our photo ID law will not require voters to have a photo ID to vote."
The original law allowed a voter to claim a "reasonable impediment" to not having a photo ID, and left it to the county board of elections to determine whether the reason was legitimate. Today's ruling said that the reason for not having a photo ID "is to be determined by the individual voter, not the poll manager or county board. So long as the reason given by the voter is not a lie, an individual voter may express any one of of the many conceivable reasons why he or she has not obtained a photo ID…voters with the non-photo voter registration card…may still vote without a photo ID."
Judge Baker wrote, "It is understandable that the [Dept. of Justice] and the intervenors [including the SC Progressive Network] in this case, would raise serious concerns about South Carolina's voter photo ID law as it then stood."
The governor's victory dance notwithstanding, Judge Baker concluded, "One cannot doubt the vital function that Section 5 of the Voting Rights Act has played here. Without the review process under the voting Rights Act South Carolina's voter photo ID law certainly would have been more restrictive."
Calling it political theater, Bursey said, "The grandstanding on this issue by the governor and the Republican majority of the legislature comes at a very real cost to taxpayers, voters and election workers. It is partisan politics at its worst."
The law will go into effect in 2013.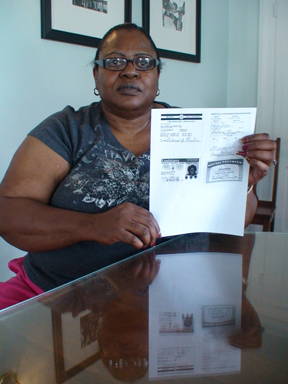 Delores Freelon has been jumping through hoops for more than a year trying to obtain a SC photo ID. In August, she testified in front of the three-judge panel in Washington, DC.