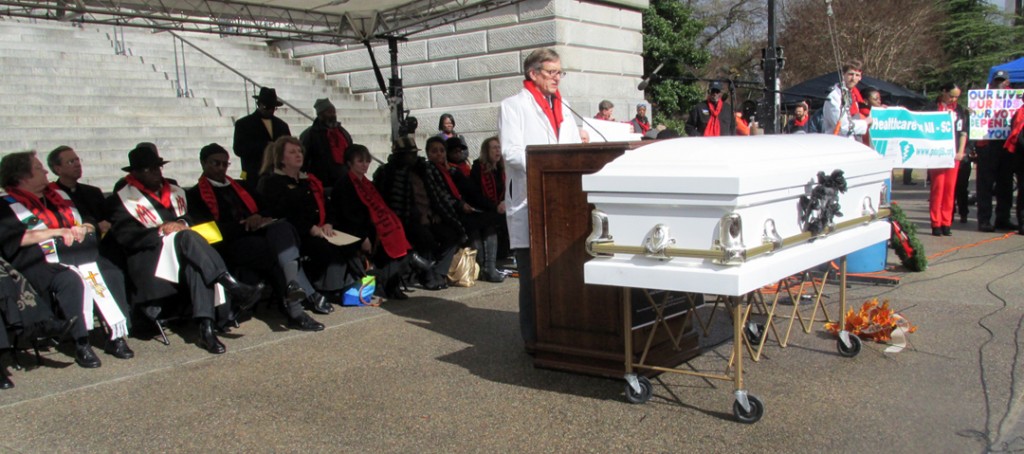 David F. Keely, M.D.
Family Medicine and Public Health, Rock Hill, SC
Remarks made at the Truthful Tuesday Coalition's Enough is Enough rally Jan. 14.
On behalf of Healthcare For All – South Carolina, our state's chapter of Physicians for a National Health Program, it gives me great pleasure to welcome everyone today for this important message about health care, present and future, in our state.
As a family physician with additional training and experience in public health, I have come to the point in my career of 35+ years in South Carolina where I can no longer stand idly by.
The term "health justice" is not heard often enough or loudly enough nowadays. Today we have already heard the disturbing information about the number of individuals who die unnecessarily every year in our state because they lack access to affordable, basic health care services – where is the justice in that?
Affordable and accessible quality health care for all should be the end goal in our country – and the Affordable Care Act [ACA] is a step in that direction.
In our current U.S. healthcare "system", over 1,000 insurance companies offer a complex array of coverage plans; disgruntled physicians struggle daily with all the different private insurance "rules"; and, the administrative overhead of it all costs us as citizens about $400 BILLION each year! That's enough "wasted money" to provide ongoing, accessible, affordable, quality healthcare (both preventive and sick care) for ALL 48 million Americans who are currently uninsured.
Over the past year, HFA-SC has reached out to community organizations, the faith-based community, and young physicians – newly-trained nurse practitioners. The ongoing debate in South Carolina about ACA-related Medicaid expansion has helped energize HFA-SC's grassroots advocacy efforts. Yes, clearly the "new Medicaid" in South Carolina under the ACA brings essential health benefits that are not part of "existing SC Medicaid" – and what is at stake? — the current health and future welfare, educability, and productivity of South Carolina's people all over the state! And I am here to say that our state's physicians really need to speak out on this.
Officially, the South Carolina Medical Association's Board of Trustees is staying neutral, despite our important grassroots voices gaining steam on the "new Medicaid" expansion issue in our state. From the SCMA website last legislative session, where it addressed the Affordable Care Act's "new Medicaid" expansion, I quote: The SCMA's Position The SCMA agrees with finding solutions to provide health care to all South Carolinians. However, we are concerned that the Medicaid expansion is a temporary and unsustainable fix that is not the solution for the long term health issues facing South Carolina.
This statement came across to me as the SCMA backing Governor Haley — I have to wonder though that that is not the true voice of physicians practicing in this state – and so I am glad that we are having this rally today to shed further light on that.
As a family physician (and small businessman), sure, I see existing South Carolina Medicaid insurance as needing to be more efficient — but HHS Director Tony Keck is already making good progress on this front, so existing SC Medicaid inefficiency is NOT a reason for refusing the "new Medicaid" expansion opportunity. Saving the lives of needy and deserving South Carolinians is what this debate needs to be about, first & foremost! That indeed is a smart investment!
As a family physician (who is active in the faith-based community in Rock Hill), I shudder and bleed compassion when I have to look into the face of medical bankruptcy and then also the ravages of totally preventable, advanced chronic disease in both rural and urban areas of our state.
Stories abound, as my colleagues gathered here today can well attest – economically-struggling, hard-working South Carolina adults with a poverty-level income, without dependent children, and thus no access to affordable health care due to the refusal of our state to extend the "new Medicaid" under the ACA to them.
In his guest op-ed in The State last year, Dr. Jeb Hallett (a seasoned surgeon practicing in Charleston), put into words very well what I believe so many physicians can no longer tolerate… I quote: "It is helpful to have an image of what rejecting Medicaid expansion will really look like. Forget the green Medicaid dollars that are the focus of too many lawmakers' conversations; for them, this is all about a news conference where they politicize their loyalty to fiscal restraint.
As a health-care provider, I imagine the limbs of diabetics that will be amputated; I envision the twisted faces of those who forever will be changed by disabling strokes. Yes, leaving the most vulnerable citizens in our state uncovered results in greater expense for us all – as the uninsured often go without preventive care and proper ongoing treatment, that leads to emergency situations where much higher costs to treat are passed on to insurance companies – and then ultimately to policy holders as higher premiums. We all lose.
You should know that current South Carolina Medical Association President, Dr. Bruce Snyder, a vascular surgeon in Greenville, issued a call for "community action" to all SC physicians in April 2013 – it is published on the SCMA website.
I quote: "I challenge the physicians in South Carolina to be the leaders in their communities and in the state that I know they can be… Every physician in South Carolina knows an issue that is important to them which would have a positive impact on our state. Individually and collectively we should make sure our voices are heard on every subject, yes, every subject that has an impact on the health of South Carolinians."
As concerned citizens, we need to echo this call loudly in our local communities. Yes, all of you, talk to your primary care and specialty physicians – now is the time!
So, in closing, please join HFA-SC and help us get the "silent" physicians around our state to speak up! Thank you!