Richland County Council voted yesterday to place a referendum on the November ballot for voters in the county to consider adding a penny to the sales tax (taking it to 8 cents) to fund transportation.
The SC Progressive Network and ATU turned out dozens of bus and DART riders to press for 33% of the penny to be allocated to public transit. Council gave second reading to a proposal that funds public transit at 25%, with 71% to roads and 4% to pathways.
The front-page story in today's State newspaper reported that the public hearing was "packed with sign-toting, T-shirt wearing bus advocates."
"While we didn't get the council to fund a great public transit system, the 20-year penny tax will raise over a quarter-billion dollars for public transit, more than doubling what has ever been budgeted," Network Director Brett Bursey said.
"This plan takes us from bad to good, and we will remain engaged to insure the initiative passes in November and that public transit better serves the needs of its users."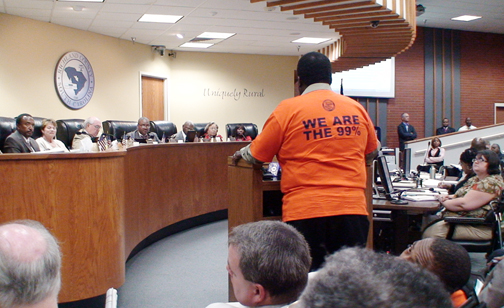 Lucious Williams, Vice President of Amalgamated Transit Union Local 610, testifies June 19 before Richland County Council.