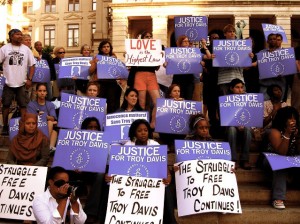 Today, one man's life is on the line. This in and of itself is a regular occurrence in the United States. The unusual thing is that so many people from all stations in life have come together for the singular purpose of saving the life of Troy Anthony Davis. Over the weekend, hundreds of demonstrations took place all over the world. Earlier this morning, several hundred thousand more petitions were delivered to the Georgia Board of Pardons and Paroles, bringing the total number of petitions to nearly one million – and those are just those delivered by the coalition organizing around this case.
The Georgia State Board of pardons and Paroles began its hearing at 9am this morning. They alone are the final arbiters in this case. Amnesty International's Program to Abolish the Death Penalty Director Laura Moye is on-site, and she just sent us this brief text message: "Large gathering at the Floyd Building. Family is grateful for all the support. 200,000 more petitions delivered this AM. Board is meeting all day. We wait…"
People who pray are doing exactly that. All of us are waiting. We expect a decision by this evening, or tomorrow morning. Whatever happens, there is much work still to be done in this case. Here is an outline of what we have planned for this week. Please lend your support as you are able and share with your contacts:
MONDAY
ATLANTA: 7:30am vigil outside "Sloppy" Floyd Building, 2 MLK Dr. – GSU Marta station, cross street is Piedmont. (9am hearing begins, closed to public and press) The decision may come down from the board as soon as late afternoon, though it is also possible they would issue it later in the evening or on Tuesday. The vigil will end when the decision is issued on Monday or TBD if it gets late Monday and a decision doesn't appear to be in sight.
We will do our best to update people with the decision. You will surely find it in the news media as soon as it is made. We will also let folks know as best we can by email. Follow @lauramoye for tweets, or follow her tweet feed on justicefortroy.org.
TUESDAY
If Clemency is granted or the execution is temporarily stayed:
Atlanta: gathering of gratitude at 7pm at Central Presbyterian Church (across the street from the Capitol at (201 Washington St. SW; Atlanta, GA 30303) Everywhere: gatherings of gratitude and a call to commit to building the abolition movement are encouraged. Check with your state coalition to see what plans they have.
If clemency is denied:
We will urge the Board to reconsider, asking everyone to send more emails and faxes to the Board
Tuesday will be a "Day of Protest"
People are asked to wear a black armband, with "not in my name!" written on it
ATLANTA: protest rally at the state capitol 7pm (Washington Street side);
Everywhere: protests are encouraged. Check with your state coalition to see what plans they have.
WEDNESDAY
If clemency is denied Wednesday will be a "Day of Vigil". Wear black armband with "not in my name!" written on it
GEORGIA focal events:
a) vigil in Jackson across from the prison at Towaliga County Line Baptist Church;
b) vigil in Atlanta on the capitol steps
Everywhere else: vigils are encouraged. Check with your state coalition to see what plans they have.
Please know that NCADP is invested in this case because its the right thing to do, and also because so many of the aspects of this case speak to the same issues that are present in so many other cases which are not nearly as high-profile. Troy Davis is already a household name, and because our our collective action, over the coming weeks many more people will learn of the systemic failures of the death penalty, and join our movement.
There is so much to do, and we want to do more. Thank you for taking action, and if you are able, please also take a moment to support NCADP so that we can continue this important work, now, and in the future. Please remember that through the end of September, all new donors to NCADP will have their tax-deductible contribution doubled by a special matching grant from Atlantic Philanthropies. Click here to donate today. Thank you.
Finally, it must be said that Troy Davis is not the only person scheduled to be executed in the coming weeks and months. Of particular note is tonight's execution in Texas of Cleve Foster. NCADP lists every upcoming execution on the top right side of its web page, and you can click on each name to learn more and take action via our State Affiliate where the execution is scheduled.
Thank you.
Abe