By Brett Bursey
Director, SC Progressive Network
The Election Protection hotline started ringing shortly after the polls opened at 7. It didn't stop all day. Ninety percent of the touch-screen voting machines in the county's 118 precincts wouldn't boot up. Some precincts didn't have working machines until 5:30pm.
One campaign tried to get the court to extend voting hours, but failed. The SC Republican Party Chairman said, "There is always a backup in case there is an election machine malfunction." But unfortunately for thousands of voters, there was no such backup.
This wasn't Richland County on Nov. 6, 2012. It was in Horry County's 2008 Republican presidential primary.
At the time, I thought this was the train wreck we needed to get out from under these unreliable voting machines and get our emergency ballot statute fixed. I was wrong.
Four years later, it was thousands of voters in Richland County standing in line for up to seven hours because there weren't enough working machines and no emergency ballots.
These are the same machines that failed in Horry County in 2008. The same machines that gave the 2010 Democratic nomination for US Senate to the virtually unknown Alvin Green, a result deemed statistically impossible by the nation's top computer voting experts. The same machines South Carolina bought between 2004 and 2006 – against our organization's recommendation to the Election Commission. After studying the issue extensively and watching what was working in other states, we advocated simpler, paper-based voting devices.
This Election Day, machine failures didn't happen in Richland County alone, but in at least seven other counties, according to reports to the Election Protection hotline. Callers from Spartanburg, Greenville, Charleston, Horry, Berkeley, Kershaw and Sumter counties all reported machine failures causing long lines.
In the 2008 Horry machine failure, State Election Commission spokesman Gary Baum said all precincts must have emergency paper ballots on hand, calling them "part of the election."
SEC spokesman Chris Whitmire said voters could use almost anything – "a napkin, a paper towel" – to vote.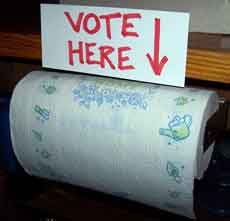 That afternoon, Whitmire called and said, "Brett, let's read that statute together, out loud." He was referring to State Code 7-13-430 that used to require each precinct to have enough paper emergency ballots on hand "as are equal to ten percent of the registered qualified voters at such voting place."
We discovered that, in 2000, the emergency ballot statute was amended to require "a number of ballots not to exceed ten percent of the registered qualified voters at the voting place." The math we had learned in our minimally adequate schools allowed us to calculate that zero does not exceed 10 percent. So, while precincts are required to provide emergency ballots, they are not required to have any until after the emergency.
Sen. Phil Leventis requested an opinion from Attorney General Henry McMaster prior to the 2008 general election on the contradictory nature of the redrawn statute. McMaster agreed that while precincts were not required to have emergency ballots on hand, they are required to be available "without undue delay."
In the 2008, deputy sheriffs waited for the county election office to print the various versions of ballots required by local races, and then drove paper ballots to the precincts. At 2pm, deputies were still delivering the first shipments of paper to some precincts.
Whether you consider it "undue delay" might depend on whether you were one of the thousands of Horry County voters who braved freezing rain only to be told to come back later.
In Richland County, with countywide reports of machine shortages and failures, only a few precincts considered offering emergency ballots. Our Election Protection Coalition provided emergency ballots for one precinct. Other precincts that requested them were told by county election officials they couldn't use emergency ballots.
Richland County Election Board Chair Liz Crum said they were prohibited by law from using emergency ballots. It says "if no machine is available," paper shall be provided. Most precincts had some machines working.
Clearly, the statute needs to be fixed to require an on-hand supply of paper ballots and specify the wait times at which point they may be used.
The requirement for emergency paper ballots to be on hand at precincts was written out of the law in 2000 at the insistence of the Association of Counties. At the time, counties were using lever machines, punch cards and mechanical devices that never failed county-wide. The counties argued that emergency paper ballots were an unnecessary expense.
In 2002, in the wake of the Florida "hanging chad" debacle, Congress passed the Help America Vote Act, which provided funding for states to update their voting systems. South Carolina was the first state to spend the money, and one of seven states not to seek an extension of the funding deadline pending the establishment of federal guidelines for the new generation of touch-screen voting computers.
The SC Progressive Network presented expert testimony to the state Election Commission about the devices' shortcomings before the state spent $38 million to buy the iVotronic machines we still use. The "iVo's" don't produce a paper record that can be verified by the voter, or used to recount the vote, and have been de-certified in a number of states because they are unreliable.
Switching to a statewide, computer-based, paperless voting system should have caused the legislature to restore the requirement for emergency paper ballots at every precinct. The potential for county-wide machine failures is a proven liability of this kind of system.
While blame for the failure in Richland County is falling largely on election officials, ignoring the history of failed machines in this and other elections implies that only human ineptitude or malfeasance can cause such problems.
As these delicate and complicated devices reach the end of their lifespan, we should be concerned about future elections and our next generation of machines. Replacing the people that run the machines will not solve the core problem. We must learn from our past mistakes and acquire a more a reliable, rnon-proprietary, paper-based voting system.
Brett Bursey is SC Progressive Network Director and SC Election Protection Field Coordinator.