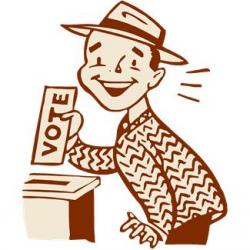 Federal Judge Mary Lewis dismissed the Greenville County Republican Party lawsuit against the State Election Commission Wednesday, ruling that the party did not have standing to bring the case to court. The state and Greenville County Republican parties filed the complaint in 2010, seeking to require primary voters to register as Republicans to cast a vote in that party's primary.
The state party withdrew from the suit before the case was heard, contributing to the judge's determination that the Greenville County party did not have standing to change statewide election laws. Voters in South Carolina do not have to register by party.
The SC Progressive Network  – along with 13 members of the SC Black Legislative Caucus, the SC Independence Party, the Constitution Party and the Columbia Tea Party – were defendant/intervenors in the case.
"For years now, we have successfully fought Republican-sponsored legislation to close the primaries," said Network Director Brett Bursey. "They sued the Election Commission to get the courts to do what they couldn't accomplish in the legislature their own party controls. The state party pulled out of this suit because it didn't want to argue the merits of a rigged election system."
Bursey argued against such legislation before the House Judiciary Committee in March 2012. "We presented the committee a list showing that 20 of its 25 members won their elections in the primary, didn't have general election opposition, and won with around 99 percent of the vote. I think they tabled the bill because they couldn't defend the current system, much less one that restricted participation in the primaries."
South Carolina has the least-competitive legislative elections in the nation, with nearly 80 percent of 2012 elections for the State House having only one major party candidate. "This is not what democracy should look like," said Network Chair Emeritus Joe Neal, an intervenor in the suit. "Today the South Carolina federal court has upheld the rights of voters in South Carolina, especially the minority community, to free and unfettered access to the polls."
"What passes for representative democracy in South Carolina is a farce," Bursey said. "It will take at least a decade to fix the mess created by our legislature, which has spent 20 years making 'safe' districts that discourage competition."
The Network is doing its best to educate the public about the serious need to create competitive political districts that encourage politicians to represent everyone in their district, not just the partisan 10 percent that turn out in the primaries. We are working to broaden electoral participation, not narrow it.