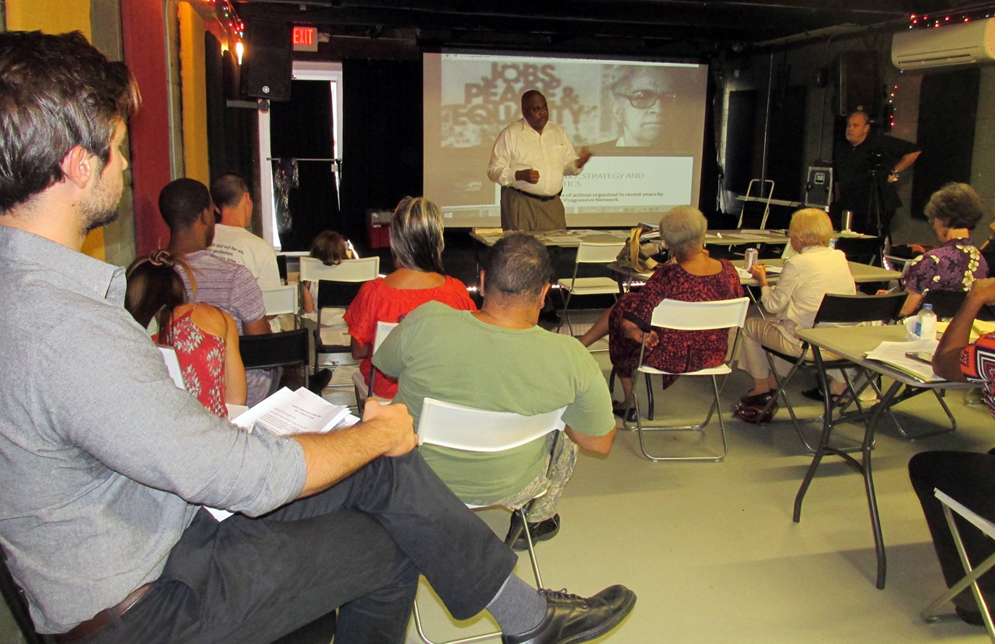 The students who graduated Aug. 24 from the Modjeska School's summer session were a diverse mix: gay and straight, retired and collegiate, blue-collar, union and professional, black, Latino and white. The youngest was 2nd-grader Rose Duncan, daughter of guest lecturer Graham Duncan, and the eldest student was Eunice "Tootsie" Holland, who will turn 84 in December.
What they shared was an intense, three-month session that covered a South Carolina people's history. The massacre at the Emanuel Church in Charleston took place just two days after we talked in class about Denmark Vesey's 1822 slave rebellion. It was Vesey's church that was again the chosen target of a violent racist attack. We added an extra class to talk about the tragedy, Sen. Clementa Pinckney – an ally of the SC Progressive Network – and the political maneuvering around the Confederate flag. Pressure from GOP candidates on the campaign trail forced Gov. Nikki Haley to call for the flag to come down. It was a stunning example to see how history is made, and remade.
The summer session covered South Carolina history as well as our own, teaching how the Network was created 19 years ago, and tracing its genealogy from the Grass Roots Organizing Workshop (GROW). Students also learned basic civics and organizing strategies. "You're never too old to learn new things," said Andy Sidden, pastor at Garden of Grace Church, "and, boy, did I!"
The school is a work in progress. "It was a privilege to have been a guinea pig for the noble experiment," said Kyle Criminger. "We learned so much, so many stories that I had never heard. And it put the popular movement in historical context, and clarified our strategy and tactics."
Course material will be revisited, repackaged, culled, expanded and posted to be accessible and user-friendly for students and the public. We are in the process of recording oral histories on key topics by South Carolina social justice movers and shakers, as well as uploading clips from the summer classes to share on the web site. Our goal is to see that the Modjeska School's organizer training gets spread across the state by training up a corps of teachers and by also having on-line classes.
Students will carry what they've learned into the real world, starting immediately. They have signed up for at least one Network project, and will be working with other activists to expand and create Network initiatives. They are:
Medicaid expansion. South Caorlina is on track to privatize Medicaid funding, a really bad idea that's driven by for-profit health care and anti-government ideologues. We will update our campaign for this new reality in 2016.
Racial profiling. Using the toolkit the Network created years ago, with a law we wrote to support it, we will teach community activists how to hold law enforcement accountable for its practices during traffic stops.
Missing Voter Project. The Network will continue its work on voting rights and targeting under-served communities to engage them and register them to vote.
Clean elections. Also called publicly financed, or voter-owned elections, this is the reform that can make all other reform possible. We will continue the work that Sen. Clementa Pinckney held dear, reducing the influence of money in politics.
Duncan said, "These last three months with the school have been incredible, and I feel fortunate and honored to have been included in helping develop a curriculum for the classes. Seeing a group of people come together to discuss how we can use lessons from South Carolina history to inform and influence our current efforts to organize in an attempt to enact more progressive policies gives me real hope for the future."
Thank you to guest teachers Graham Duncan, Dr. Ed Madden, Dr. Hoyt Wheeler, Dr. Tom Terrill, Kevin Gray, Rep. Joseph Neal, and Meeghan Kane.
And congratulations to the graduates!
See more photos in our class album.
For more about the school, call 803-808-3384 or email network@scpronet.com.