Robert Burgess
SC Progressive Network Faith Liaison
On a cloudy mid-June day, I stepped off of a short flight from Atlanta and into the jazz capital of the world. Unsure of which shuttle ran from the airport to Loyola University, I decided to stop by the service desk. The concierge was a nice middle-aged woman who offered pamphlets full of standard attractions and confirmed where I might find our shuttle. After a few pleasant exchanges about her beloved city, she offered up intel on festivals, parades and local happenings with a wink and smile. Her charm and friendliness would set the tone for my first excursion to New Orleans.
Over the next two days, SC Progressive Network Executive Director Brett Bursey, fellow organizer Daniel Deweese, and I would participate in the third annual SOLVE conference. The Southern Leadership for Voter Engagement conference is a multi-generational and multi-racial leadership group for increased civic participation in the South. The mission: collaborate to create innovative community-level initiatives to enhance voting access, and advocate for voting rights. This year's theme was Strong, Persistent, and Determined Action: SOLVE after Shelby, a reference to the Supreme Court Case, Shelby County v. Holder, which ultimately struck down section 4 of the Voting Rights Act as unconstitutional.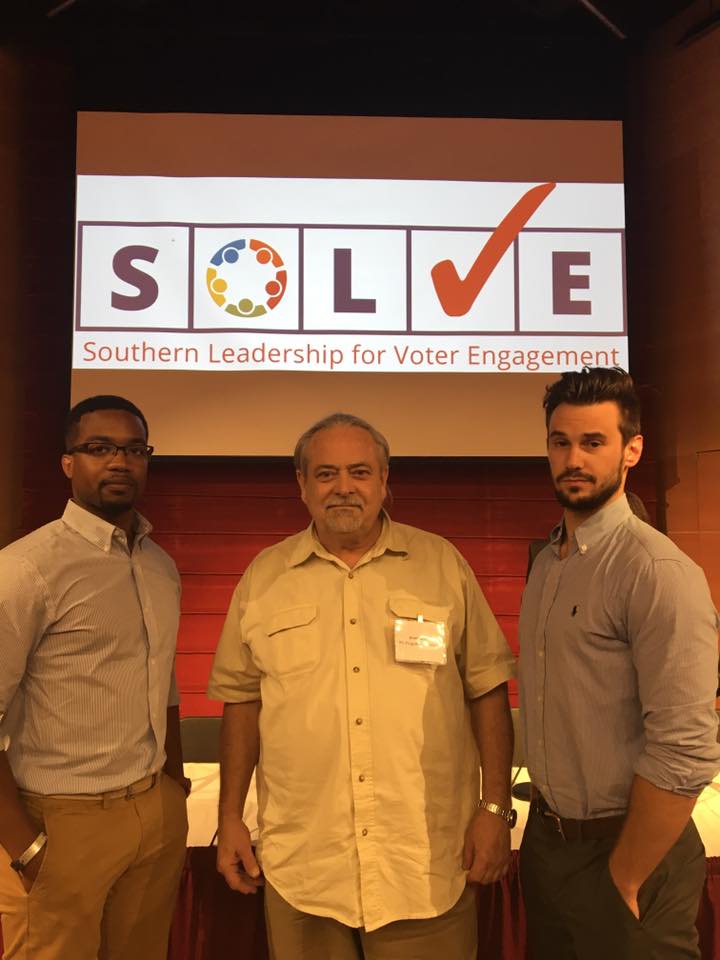 (From left) Robert Burgess, Brett Bursey, and Daniel Deweese in New Orleans
Brett, being the prudent strategist that he is, made our assignments very clear. Go forth and learn. Not just the raw data analysis and gerrymandering statistics that comes from actively listening to the panelist, but the type of learning that can only come from conversations in the hallway. From handshakes and a smile. Getting to know these prolific individuals and how they operate on a personal level. I imagine Brett already knew who was who among the packed headline of politicians, attorneys, national organization figureheads and the like, however he wanted us to engage and build our own networks. Friendships that may last beyond a two-day event and into the long future of our shared struggle.
Chief among them was Bryan Perlmutter. He was a calm, unassuming young man wearing a shirt that simply said, "People over money". There were a few others wearing this black t-shirt with bold lettering circled around him. I would come to find through a series of candid conversations that Mr. Perlmutter had already done more good for NC than most of their leaders had done their entire career. Some of his accolades include building coalitions to oppose budget cuts and tuition hikes as a student at NC State, co-founding the NC Student Power Union, working as the Communications and Development Director for the Youth Organizing Institute, acting as the Development Chair for the Southern Vision Alliance and most notably, Founder and Executive Director of Ignite NC. His arrest in 2013 planted the seeds for what would become the Moral Monday movement which has now become a national campaign. We met a clear-eyed, young (24) impressive man who was nice enough to share tactics with two organizers from SC.
After spending time with a myriad of speakers at the SOLVE conference and enjoying a night out with Ignite NC, I returned home. Fatigued, yet full of hope. I thought, "If more organizations joined to confront issues, maybe there would be a light at the end of the tunnel for my kids." I also thought about Bryan and his cadre of fired-up activists tackling heavy weighted issues like voter suppression and the HB2 bill. He was fearless, unashamed and ready to speak truth to power.
In the days following, I was encouraged by Brett to nominate him for the Mario Savio Young Activist award. This national award, which carries a cash prize of $6,000, is presented each year to a young person (or persons) with a deep commitment to human rights and social justice and a proven ability to transform this commitment into effective action. Bryan was an ideal candidate. Of course, Brett found it delightful that I obliged. The application process was rigorous and detailed, but my resolve remained intact. There was no question that he and his work were worth supporting. A small token of appreciation and an olive branch for the future.
Yesterday, three months after the application was received, Bryan called to tell me that he won the award and would be flying to California to accept. He was deeply grateful and I told him that he was beyond deserving. Our chat didn't last very long. He was tied up bringing a new hire up to speed, organizing new student fellowships and working to unify Charlotte in the wake of recent extrajudicial killings. The conversation ended with a tentative reunion scheduled for the New Legacy Project's Subversive Art Festival Extravaganza Oct. 8.
I don't expect him to show up but it would be nice to catch up with a new, old friend.