In 2000, the Network released a study on the racial disparities in our criminal justice system that found SC arresting nearly 10% of black citizens every year, a rate unequaled in the world. In 2001, as a tool to identify and mitigate the racial profiling that drives arrest rates, we wrote and introduced legislation to require all cops to report data on all stops. It wasn't until 2006, when the legislature's Republican majority needed Black Caucus votes to over ride Gov. Sanford's veto of a mandatory seat belt bill (necessary to continue receiving federal highway funds), that our racial profiling bill was passed.
We later learned that our bill was watered down by a conference committee of five white legislators to require only warning tickets be reported.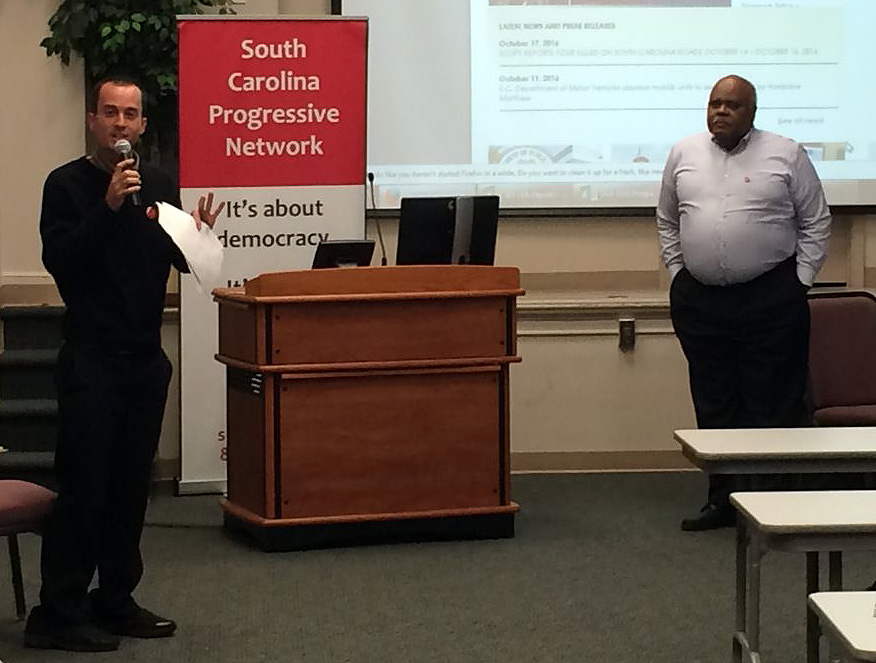 Kyle Criminger (left) and Rep. Joe Neal lead discussion on racial profiling project at the Network's fall retreat. See video below.

Our racial profiling project has made inroads with state and local law enforcement agencies about how they will benefit from the improved race relations that will come from a transparent public data base of all stops. Our plan for the coming legislative session is to get the cops to be the ones calling for strengthening the reporting requirements.
As part of our ongoing effort to research and reduce racial bias, we have expanded our work to include the factors that contribute to the militarization of our police. We want to lead a public and political dialogue about whether our local police are warriors or guardians.
Network Cochair Kyle Criminger updated members on the racial profiling project at the group's fall retreat. Based on a review of racial disparities in arrest rates and a new law requiring cops to report the race of those stopped for traffic warnings, our study reveals that most police agencies in South Carolina are breaking the law by not reporting. The most recent report on the Department of Public Safety's web site reveals that most of the state's police agencies are not in compliance.
The Network is circulating this study to stimulate public dialogue about racial profiling and to encourage police agencies to advocate for a database that records all stops to allow for increased transparency.
For more information, see http://scpronet.com.